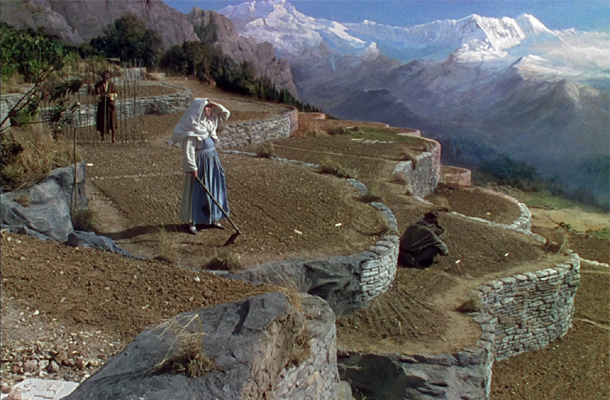 ---
The advent and eventual dominance of color cinema around the world brought with them aesthetic challenges as well as rewards. While superficially bringing movies closer to "realism," the use of color, like the use of sound, can also go beyond merely reflecting what's in front of the camera and be adjusted for stylistic effect, from washing out into gritty dullness to amplifying into garish expressionism and every mode in between. Color cinematography has so become the go-to paradigm that many films don't even consider strategies of light, shadow, and color in telling their stories; yet the great movies since the dawn of color make expert use of everything at their visual disposal. The power of color can come from the artistry and craftsmanship of many individuals: the production designer, the art director, the cinematographer, the costume designer, and of course the overall director orchestrating these elements into, ideally, a coherent whole. This list topic is the use of color in movies, highlighting my favorite color films of all time.
---

10. Johnny Guitar (1954)
From mere plot summary, Nicholas Ray's Republic Pictures Trucolor Western may seem a standard example of the genre, but from its almost freakishly expressive colors to its lurid characters and subtext, Johnny Guitar remains one of the weirdest and most fascinating Westerns to ever be made in America. Ray would later make powerful and radiant color films, like Rebel without a Cause and Bigger than Life, but this one benefits from the blatantly artificial color-coding of character wardrobes (black-clad Mercedes McCambridge and her posse against the often brighter, or at least more neutral, Joan Crawford and Sterling Hayden) and studio environments that seem like gladiatorial arenas for the titanic, almost mythical struggle between Crawford and McCambridge.

9. Gentlemen Prefer Blondes (1953)
The Technicolor Hollywood musicals of the 1950s and 1960s produced a bountiful array of costumes, sets, and numbers from the likes of Vincente Minnelli and Stanley Donen. Also at the height of their visual prowess were the jack-of-all-trades Howard Hawks and choreographer Jack Cole, whose brightly satirical Gentlemen Prefer Blondes is my pick for its gaudy, glitzy range of primary colors adorning and surrounding leads Marilyn Monroe and Jane Russell. They burst on-screen through dark curtains in the opening "Little Girls from Little Rock" clad in spangled orange-red outfits that make visual the pursuit of materialistic excess at the heart of the film. The most memorable image in Blondes, and one that encapsulates so much about Monroe's cinematic persona, is the pink-clad actress singing "Diamonds are a Girl's Best Friend" in an abstract set of red, surrounded by formally-dressed suitors. The entirety of Hollywood's decorative power, its ability to make colors richer and more sumptuous than in everyday life, is present in these kinetic songs-and-dances.

8. In the Mood for Love (2000)
At their best, Wong Kar-wai's features are sublime evocations of nostalgic and romantic longing, seen through the visual haze of memory. His 2000 In the Mood for Love was perhaps his most classical to date, chronicling the missed opportunities of a married journalist (Tony Leung) and a married secretary (Maggie Cheung) in 1960s Hong Kong through a rapturously-colored mise-en-scene, a bright palette to deflect from the often muted resignation of the characters. Love is also a marvel of period decor and sumptuous fashion, encompassing mesmerizing but claustrophobic corridors and Cheung's instantly-memorable cheongsams. Red, the color of bursting and throbbing passion, is a defining hue of the film in both clothing and lighting, but it often remains as subtle and submerged as the unexpressed emotions roiling beneath the film's elegant surface.

7. Red Desert (1964)
Having already made several melodramas of alienation in striking black-and-white, Michelangelo Antonioni made his first color film, like many of his international art-house compatriots, in the mid-1960s and with an exacting artistry, even going as far as painting parts of nature to fit his conception. Red Desert is set in a modern industrial wasteland enshrouded by the dull gray landscape and omnipresent fog banks, with heroine Monica Vitti a bystander-victim subtly driven mad by the environmental ruin wrought by her factory manager husband (Carlo Chionetti) and his ilk. Amidst the muted backgrounds of hulking buildings and mechanical devices, dwarfing the world's inhabitants but with their own kind of grim, antiseptic beauty, there are still some moments of imaginative respite: a brightly-hued visualization of a story set on a deserted island told by Vitti to her son and occasionally arresting interiors that nonetheless house merely distracting interludes.

6. The Conformist (1970)
The Conformist is a stunning period drama of complex morality and sensual splendor, a masterpiece of both shadow and color. Writer-director Bernardo Bertolucci made his international reputation with this adaptation of Alberto Moravia's novel about a bureaucratic fascist (Jean-Louis Trintignant) in 1930s Italy trying to conform to the politics and mores of his day. Along with The Spider's Stratagem the same year, the film began a fruitful collaboration between Bertolucci and cinematographer Vittorio Storaro, whose elegant, burnished look graced Italian and Hollywood movies to come. Every cinematic element of The Conformist, from its realistic costumes and streaming light to eerie nighttime blues and flaming reds and oranges, contributes to its competing airs of dangerous seduction and suffocating normalcy. The film intertwines beauty and decadence within its characters and within its decor, becoming authentically visual in its storytelling.

5. An Actor's Revenge (1964)
This stylistically dazzling and unclassifiable masterpiece from prolific Japanese director Kon Ichikawa was ostensibly a showcase for the 300th film role of Kazuo Hasegawa, who had portrayed the same female-impersonating kabuki hero in the 1935 original from Teinosuke Kinugasa, but it turned out to be a playfully energizing dip into a fully theatrical form of cinema. Ichikawa utilizes the CinemaScope frame and brightly, garish even at times, colors to frequently confuse the stage and reality, playing up the artificiality of both, just as the hero never lets up his feminized appearance and mannerisms even when in public and letting loose with his swordsmanship skills. Even beyond the expected colorful theatrical costumes and sets, the film uses bold colors and lighting like visual punctuation even when not particularly narratively warranted.

4. Raise the Red Lantern (1991)
A film of incomparable beauty and rigid compositions, Raise the Red Lantern captures a story of female confinement with ravishing colors alien to the heroine's emotional life. It's no surprise that the film comes through the eyes of former cinematographer and Fifth Generation Chinese filmmaker Zhang Yimou, director of photography for Chen Kaige's seminal Yellow Earth and eventual director of such colorful martial arts epics as Hero and House of Flying Daggers, and cinematographer Zhao Fei, who had worked on the poetic films of Tian Zhuangzhuang in the 1980s. For this tale of the young fourth wife (Gong Li) of a feudal lord caught within societal constraints, a stunning central courtyard open to the elements but confined by walls is returned to again and again, reflecting the outdoor colors as well as the shimmering of lanterns used to signify the currently favored wife. Period movies are often replete with elegant costumes and authentic period decor, but Lantern uses clothing, brightness, and color-coding to propel the story forward and to illustrate moods and feelings, frequently exuding a warmth belying the travails of the restrained and petty characters.

3. Suspiria (1977)
From its protagonist's arrival in a blood red-drenched terminal at Munich Airport, Dario Argento's Suspiria announces itself as a Gothic fairy tale of overpoweringly pure primary colors. Having already made such giallos as The Bird with the Crystal Plumage and Deep Red, Argento's shift into outright supernatural horror brought with it the brilliant Technicolor violence of Mario Bava in which colors can provide aesthetic shocks and power independent of the narrative. The film's Italian cinematographer, Luciano Tovoli, had famously worked on Antonioni's naturally-lit The Passenger, but here he matches widescreen, sharpness, and an expressionist palette to the Grand Guignol goings-on at a ballet academy hiding a witches' coven. The entire world is rendered strange and eerie with an excessively bright color scheme and textured interior backgrounds, trapping American student Suzy (Jessica Harper) within the academy's walls even when Argento isn't indulging in his escalating, color-shifting set-pieces of death.

2. Ran (1985)
A volcanic late-period work from Akira Kurosawa, Ran is an apocalyptic adaptation of Shakespeare's King Lear transposed to patriarchal feudal Japan, awash with stunningly bold colors of metaphorical meaning and aesthetic import. Formerly indolent Kurosawa vet Tatsuya Nakadai is now the waning lord passing his kingdom down to his three sons, each in a primary colored kimono that will become the dominant hue of his army once they inevitably clash on the epic battlefield. The dull gray of stone buildings and ash-ridden exteriors give way to fire and blood in almost cosmic quantities, not only furthering the plot but making visual the chaos of a dynasty and even a way of life imploding and devouring itself. Few films boast of such a wide palette and canvas of remarkable imagery; Ran remains a symphony of beautiful violence and destruction.

1. Black Narcissus (1947)
Michael Powell and Emeric Pressburger, otherwise known as the Archers, are the architects of some of the most gorgeous color films of all time: The Life and Death of Colonel Blimp, The Red Shoes, The Tales of Hoffmann, and A Matter of Life and Death, among them, with Powell's solo Peeping Tom equally eerily beautiful. Yet my choice from them, and above all other movies, is the wildly artificial and exotic Black Narcissus, a studio-bound production nonetheless set in the Himalayas and about a group of nuns setting up a hospital and school for the native population. Eroticism and sexual jealousy invade the high-minded inhabitants, turning the placidly gorgeous into hauntingly aesthetic through garish colors and expressionist lighting. The perfectly-framed and handcrafted backdrops give nature a painterly stasis in opposition to the emotional turmoil rocking the fallible, human characters, especially those who try to idealize themselves instead of paying proper homage to their natural selves and the natural world.