Review: Arthur Christmas (2011)
---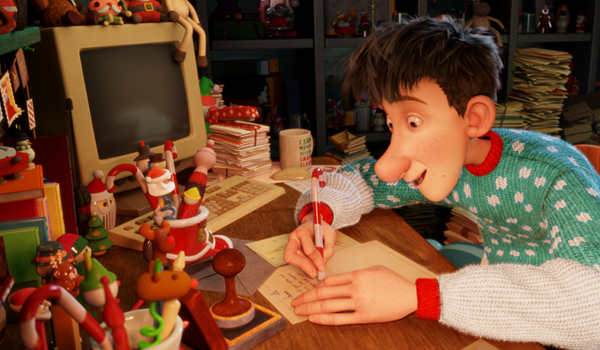 ---
Arthur Christmas is goofy, occasionally awkward, sometimes inappropriate, but ultimately as rich with holiday cheer as any Christmas film in recent memory. I am certainly vulnerable to such cheer, being one who maintained childlike wonder regarding the holiday season far beyond my childhood years. Yet even now, as that wonder has faded into nostalgia, Christmas brings with it an undeniable spark, a joyous magic that cannot easily be dismissed. This film remembers that wonder and understands that magic – imperfect as it is, the movie sidesteps commercialism and nestles itself firmly within the wondrous aura of Christmas.
Aardman Animation, the British production company that brought us Wallace & Gromit and Chicken Run in classic Claymation, is behind this computer-animated adventure, which claims – as countless other films have – to unveil just how Santa Claus is able to deliver all those gifts in one night. According to this version, the evolution of technology has led to a completely revolutionized system of North Pole delivery efficiency. Gone is the antiquated sleigh with its eight tiny reindeer, replaced with a massive spacecraft guided by a NASA-like Mission Control center. The leader of the operation is Steve (voiced by Hugh Laurie), oldest son of the current Santa (voiced by Jim Broadbent), who oversees the Christmas Eve "mission" with the cold efficiency of a military general. Christmas cheer at the North Pole has been usurped by a Bottom Line mentality.
Santa's youngest son, Arthur (voiced by James McAvoy), seems to be the last remaining Christmas purist at the North Pole. But the gangly Arthur is a bit of a bumbling klutz, the black sheep of this dysfunctional family made even more so by the fact that he doesn't fit the mold of Steve's high-tech system of holiday effectiveness. But when a crack is exposed in that system and a single gift is left undelivered as Christmas morning approaches, Arthur sets out on a decidedly madcap adventure to deliver the gift and save the day.
The film's humor, tinged with that unmistakable cheeky British edge, is hit-or-miss, at times inching too close to the darkness for young children. An odd string of sexist jokes underlines the film's heavy male-centeredness (especially odd considering the film is directed and co-written by a woman, Sarah Smith). And a throwaway reference to assisted suicide is particularly jarring, darkly funny as it may be. Such bawdy humor obscures the film's genuine warmth, which doesn't make itself apparent until the third act, but hits with a wallop squarely in the heart.
Arthur Christmas the character embodies the selfless altruism that is tied to the spirit of holiday giving. Arthur Christmas the movie poses a wonderful, surprising argument that none of the mythical minutiae of Santa Claus matters. Whether gifts are delivered by sleigh or by spacecraft, whether they are placed by "Santa" himself or by his gangly son – or, it's safe to imply, whether gifts are given by a jolly old man in a red suit or by a loving mother and father – the specific trappings don't matter. It is the spirit of Santa of that matters, that infectious joy that makes Christmas so magical. It takes a lot of silly jokes and screwball adventure to arrive at its point, but the emotional resonance of Arthur Christmas is considerable, likely made more potent by just how unexpected it is.
Waking up on Christmas morning is one of the great magical moments of a young child's life. But as we grow older, we should take a moment to witness that joy once more…stop and watch as our children run out from their bedrooms and feast their eyes on what Santa has left for them. In those moments, holiday magic lives on, even in the most curmudgeonly adults. Arthur Christmas understands that magic, and though it journeys through some middling material to get there, its spirit is every bit as infectious as Arthur himself.
68/100 - Awkward and flawed as it sometimes is, Arthur Christmas sends as true and wonderful a holiday message as any Christmas movie in recent memory.