Review: Million Dollar Baby (2004)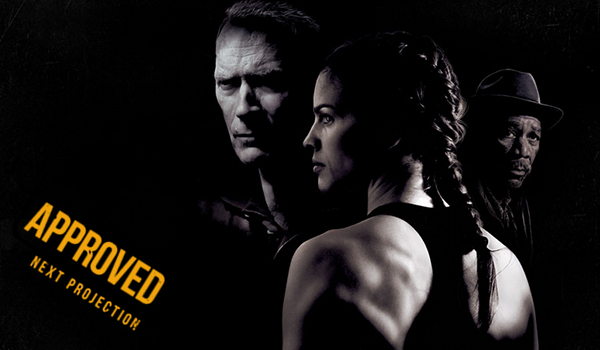 ---
Having triumphantly arisen from the ashes with Mystic River, Eastwood seemingly recognized the key elements in that film's success, his follow-up deeply similar in aspects of tone and aesthetic. Million Dollar Baby met even greater acclaim than its predecessor, claiming itself four Academy Awards, including Eastwood's second each for direction and production.
A septuagenarian boxing trainer hardened by decades spent in a tough game, Frankie Dunn's final hopes of glory seem lost when his trusted prize fighter leaves him for the security of better connected management. Scornfully dismissing the hopes of would-be competitive fighter Maggie Fitzgerald, Frankie is gradually drawn by her unrelenting conviction to help the relentless woman achieve her dreams.
The level to which Eastwood's game had been raised, aesthetically speaking, with Mystic River is here again advanced yet further, few frames not dominated by their reductionist lighting scheme and overwhelming sense of impending despair contributed by Tom Stern's imposing shadows. The visual aspect of Million Dollar Baby is breathtakingly fatalistic, bringing a pleasing dark beauty that works to complement the difficulty of the film's themes and add to the depth in which they are explored. On a purely aesthetic level, this is an incredible piece of work: an exquisite exercise in emotional expressionism that stuns, dazzles, and transfixes.
That Million Dollar Baby's narrative is infinitely more impactful than its visuals, then, is all the more impressive. This is no female Rocky, no basic celebratory sports movie. Perhaps motivated by the success of Mystic River's considerable complexion, Eastwood crafts a challenging fable of emotional turmoil, self-loathing, and the fallacy of the American Dream. His great strength lies in bold deconstructions of the established order; the aims of Million Dollar Baby are in this manner greatly synonymous with those of Unforgiven. While the former might briefly revel in the triumph of its protagonist over adversity, its true fixation is not with her success. Maggie is obsessed with the idea of overcoming her less than privileged upbringing, with making something significant and rewarding of her life. Relation with this idea is far from difficult for the majority of people, and charting Maggie's rise to world stardom would make for an easy exercise in straightforward vicarious cinema-going. "Easy" is of no interest to Eastwood, and Paul Haggis' adaptation of a real-world boxing trainer's short stories is anything but. Haggis replaces heart-warming human triumph with soul-crushing difficulty, the emotional turmoil of the tale he weaves relentlessly apocalyptic in its small-scale, personal manner. Million Dollar Baby is a far cry from feel-good, but then so too is life more often than not. Haggis eschews fantasy in favour of brutal honesty, tossing aside the positivity and optimism of the majority of Hollywood productions, though never simply for the sake of being different. There is reason to its darkness, logic to its despair, and a resounding resonance in its accurate treatment of the more complex reality of life.
Again nominated for Best Actor — and grievously robbed of the victory — Eastwood directs himself to unparalleled excellence, the gruffness of his character balanced with the softer moments of humanism: his reading of Gaelic poetry; his warm demeanour toward his heavyweight hopeful Big Willie; his reservedly emotional reactions to the unanswered letters of his estranged daughter. Equally adept in the almost comedic moments wherein Frankie insensitively dismisses Maggie's hopes with a simple snarl, and those more subtle instances of nuance in his character's portrayal, Eastwood evolves gradually before our eyes. His inevitable coming around to the idea of training Maggie — a turn in the narrative which might, in less capable hands, have induced groans of derision — is accomplished perfectly, neatly avoiding the pitfalls of an unbelievable and hackneyed approach. The opinions of this character, particular those regarding the unsuitability of "girlies" to boxing, are never compromised and undermined by his taking on Maggie, nor is his façade of austerity; rather, thanks to the underplayed and invaluable subplot of Frankie's estrangement from his daughter, this is in fact the natural course of action for him to take. The relationship between Frankie and Maggie, his surrogate daughter, may be the film's strongest point. The gentle evolution their dynamic undergoes throughout the film contributes the majority of the emotional identification, the mismatched elements of Frankie's unwitting affection and Maggie's outspoken amiability giving us much to admire and be drawn in by.
Earning her second Oscar, Hillary Swank gives us a magnificently strong character, her outward charm and affability matched in magnitude only by the tough relentlessness of her drive. This is a woman whose story we immediately buy, Swank's unflinchingly honest performance making her all but impossible not to adore. Contrasted with the utter hideousness of her family — Margo Martindale is scarily believable as Maggie's horrid mother — she brings warmth in equal measure to the scenes themselves and to the coldness of Frankie's life. The eventual emotional effect of the film hinges completely on our admiration of this character; in the hands of Swank, only the hardest of hearts could not be melted by her angelic grace.
A director who has certainly fallen victim to the ease of employing clichéd techniques before, with Million Dollar Baby Eastwood manages to neatly avoid the negative aspects of an often unnecessary narrative device. Voiceover narration is tricky territory, constantly running the risk of telling the audience more than showing them, but here it works well to complete the narrative, the eventual reveal behind the nature of the narration entirely satisfying. With his dulcet tones, Morgan Freeman brings a comforting sagacity to his voiceover lines. His Skip is a deeply intriguing character — a penniless gym assistant robbed of his own chances in-ring after a lasting eye injury — providing at the same time a comic accompaniment to Frankie and his moral compass. Though humourous, their partnership more closely resembles a bickering old couple than a traditional comedy duo, the many conversations they have laced with a gruff aggression that hides the latent affection below. Frankie finds balance in Skip, the infrequent times wherein he is overcome by feelings of helplessness and anger finding a voice of reason in his long-time friend, though often also a familiar face to blame. Their relationship, in its typically masculine form of jostling insults, is a crucial centrepiece of the film, vital to conveying Frankie's fundamental goodness buried deep beneath his layers of disaffection and aloofness. Skip is the one character who really "gets" Frankie and his motivations, the only person who truly knows how to deal with his insecurities and issues of committal, rooted as they are in a fundamental lack of self-belief.
To even the most steadfastly bolted doors of emotional hardiness, Million Dollar Baby is a devastatingly effective battering ram of raw power. A surprisingly tough and demanding watch, its unexpected and wholly inspired narrative segues turn us from the typical story of spirit-lifting triumph and instead cast us into a realistic world of shadows and darkness. Matching its themes with the dark expressionist splendour of its visuals, it boasts an array of performers at the very top of their game, each invaluable to the end effect of emotional agony the film provides. Yet further proof of Eastwood's unmatched mastery of his craft, Million Dollar Baby has a very strong case for being the director's finest work, its flawless combination of an outstanding script, an unmatchable cast, and Eastwood's most powerful and impactful direction managing even to outshine Unforgiven.
100/100 - To even the most steadfastly bolted doors of emotional hardiness, Million Dollar Baby is a devastatingly effective battering ram of raw power.