This Week on Demand: 28/04/2013
---
Twitter feeds are clogged today with talk of the titles—some 2000—dropping from Netflix Instant in the morning. Such is the nature of this VOD business, contracts expiring and deals going unrenewed, leaving our virtual collections suddenly dwindled. Let's not lament the losses though: we can do nothing about what's leaving, let's instead focus on the new. This week offers a fine array of foreign talent, generally far surpassing the lacklustre crop of Anglophonic additions. It's not a great week, but it's enough to whet the appetite until next time, when plenty more will have been added to make up—though not quite entirely—for those missing 2000.
---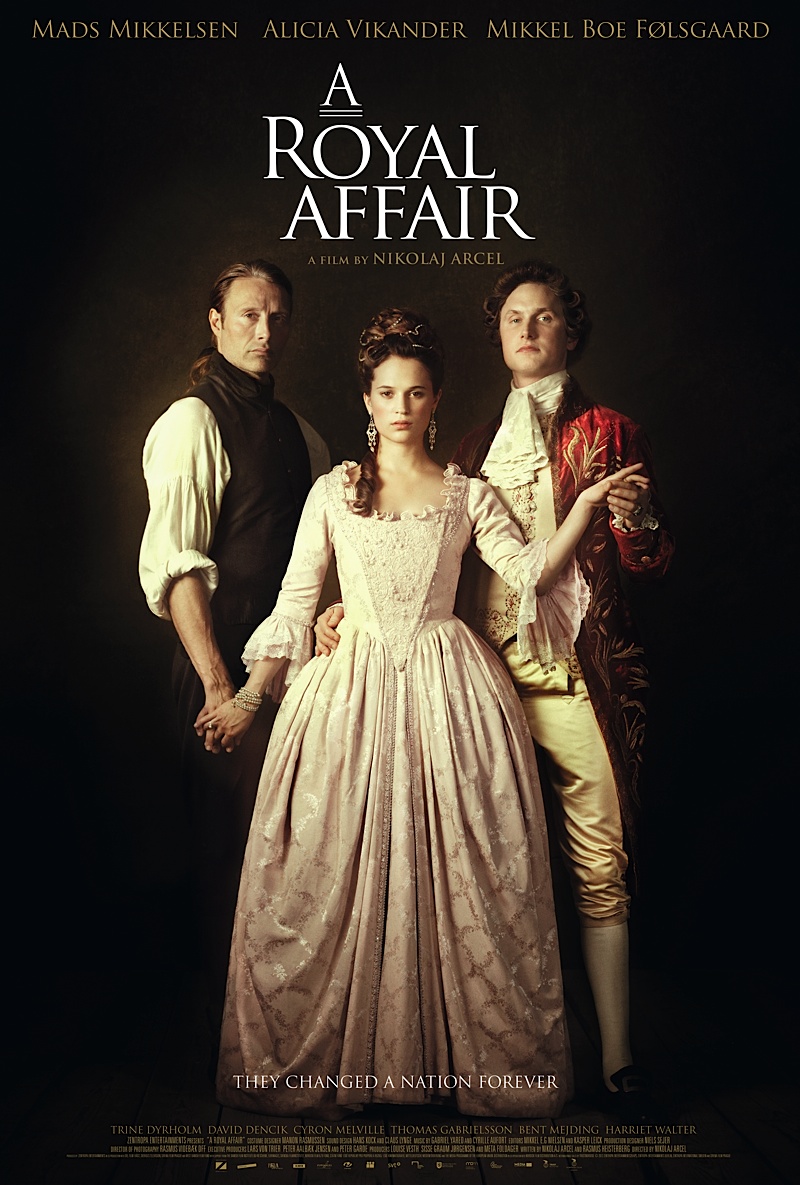 Since his introduction to mainstream audiences as the villain of 2006's Casino Royale, Mads Mikkelsen has come to be recognised for the truly great actor he is. He draws on many aspects of his screen persona in A Royal Affair, Nikolaj Arcel's beautifully realised period piece following the secret romance between Danish Queen Caroline and her husband's personal physician. Evenly pitched between genteel comedy and politically-charged drama, it's a deeply rich and nuanced work that functions as well on the level of immersive romance as it does that of historical biography. Mikkelsen is as versatile as ever, while newcomer Alicia Vikander makes a lasting impression that's already paid off. Though raising many a laugh, Mikkel Følsgaard's King Christian is an often questionable character whose troubling treatment belies deeper complexities of this strange power dynamic. The film's impact, though, is undeniable: A Royal Affair is sumptuous, smart cinema. RECOMMENDED.
---
Joe + Belle
Billed as the Israeli answer to Thelma and Louise, Veronica Kedar's debut feature Joe + Belle is an ambitious tale of lesbian lovers on the run that struggles to reconcile the potential of its limited budget with the capacity of its imagination. Kedar stars as Joe, a lovelorn drug dealer, alongside Sivian Levy's Belle, newly released from a mental institution. Faltering almost immediately, Kedar pitches the pair's initial meeting ludicrously, presenting a scenario that's never for a second believable. It's a poor start to proceedings from which the film never quite recovers, try though it does to steer things toward more dramatically satisfying territory. Neither as funny nor as politically nuanced as it appears to think itself, Joe + Belle is at its best when focusing on this burgeoning relationship, which Kedar and Levy consistently sell throughout. Elsewhere, as in its sadly misguided ending, it bears all the hallmarks of a debut outing. SO-SO.
---
Just Like Being There
Its title referring to the sense of inclusion a truly great gig poster should invoke, Just Like Being There traces the evolution of the modern art print through the rock 'n' roll shows of the 1980s to the Mondo movie posters of today. Scout Shannon makes an enlightening, engaging, and—crucially—very funny directorial debut, getting the best from his many interviewees, including the artists themselves and those for whom they've designed work. Primarily concerned with gig posters, the film boasts a great soundtrack, introducing us along the way to various musicians whose songs are as much the subject of the documentary as are the artworks with which they sell them. Slightly uneven in its pacing at times, Just Like Being There tries at times to cover too much ground; it does best when sharpening its focus, using single artists' lives as an entry point to this intriguing, exciting little world. RECOMMENDED.
---
Off-White Lies
Israeli road movies, they're a lot like buses: you wait forever for one to come along and then two arrive at once. So you'd think on the evidence of this week, at least; Off-White Lies is the second travel-based narrative to emerge from the country in this batch. The feature debut of director Maya Kenig, it's both more narratively and thematically satisfying than Joe + Belle, offering a greater depth of emotion and a far more nuanced take on Israeli issues. Gur Bentwich is terrific as Shaul, estranged father to thirteen year old Libby, who convinces to daughter to play along with his fake refugee claims in the midst of the 2006 Lebanon War in order to earn them shelter in an upper-class Jerusalem home. Beautifully shot, deeply amusing, and dramatically mature, it's a fascinating piece of work that balances its character moments and broader issues with commendable poise, and consummate pleasure. RECOMMENDED.
---
Tasked with the rescue of a high-profile journalist captured while reporting from Afghanistan, the eponymous team of Stéphane Rybojad's Special Forces soon find themselves outnumbered and on the run in the vast, unaccommodating countryside. It's the material for a compelling war drama, the relevance of its setting considered, yet Rybojad opts instead to make a typical action picture in the vein of Rambo III, adopting all the gun-toting jingoism of that film without inheriting a single shred of its campy self-awareness. Djimon Hounsou and Benoît Magimel are among those who play the troops, who gallop through the war-torn country shooting every native in sight, whether they pose a visible threat or not. Watch aghast as Rybojad uses a serious, still-raging conflict as a backdrop for his chest-thumping nonsense, turning a complex real-world issue to nothing more than an excuse for some shooting: poorly shot, horrendously edited, inanely scored shooting at that. UNWATCHABLE.
---
The Dream is Now
Oscar-winning director Davis Guggenheim turns his focus to the troubled US immigration system with The Dream is Now, a thirty minute documentary which focuses on a number of high achieving college students whose illegal status leaves them unable to put their qualifications to any use. There's a certain schmaltz to the melodramatic music and tearful tales of familial deportation that Guggenheim uses to humanise this issue; affecting as it is, it detracts from a rounded examination of the topic, particularly in a farcical coda that makes forceful comparisons to historical cases. All its faults aside, though, there's no doubting that the film makes the emotional impact it strives for, these affable students each ideally equipped to convey the points Guggenheim wishes to make on the flaws in the system. He shoots beautifully and creatively: the interviews, reconstructions, and transitions between them are of a level of visual engagement that often masks the many strings being pulled. WORTH WATCHING.
---
A steamy, sweaty crime story cast in the exploitation mold, The Paperboy delves deep into its 1960s' Florida setting, director Lee Daniels getting down and dirty with his characters. They are Ward and Jack, brothers who work to exonerate a condemned man together with the woman who claims to have fallen in love with him by letter. Nicole Kidman is on alarmingly good form as this striking character, her overwhelming presence the centre of the film's pronounced sexual overtones. Zac Efron and Matthew McConaughey are similarly good as the brothers, with John Cusack providing welcome complexity as the death row inmate. Alas, it's solely in the performances he elicits that Daniels makes his impact; the convoluted, crazy story he tells is captivating enough, but never seems to find anything it actually wishes to say. Often aggressive in its exploitative aims, The Paperboy is something of a baffling mess, strangely watchable but ultimately unsatisfying. SO-SO.
---
What to Expect When You're Expecting (review)
Powerful nausea; constant discomfort; mood swings; self-loathing: such are the side-effects of pregnancy as per Heidi Murkoff's bestselling guide What to Expect When You're Expecting. Given that he believed he was adapting a novel until well into the pre-production process, it's somewhat miraculous that director Kirk Jones manages to so well emulate those feelings within the viewer. His stellar cast—boasting Chris Rock, Dennis Quaid, Anna Kendrick, Cameron Diaz among others—and their utter dearth of likeable characters turn the stomach; the absence of laughs, amidst so many ill-advised efforts to rouse them, dampen the mood; the contemptible belief that quantity trumps quality in storytelling terms pains the mind: the movie's multitudinous plot strands, and the lack of a single significant merit existing between them, hammers home precisely how uncomfortable these pregnant women feel. Few films in Hollywood history have better attested the sheer, sad, cash-hungry desperation to which the industry can sink. UNWATCHABLE.

Having spent the vast majority of my life sharing in the all too prevalent belief than cinema is merely dumbed-down weekend escapism for the masses, I was lucky enough to turn on a television at the exact right moment to have my perspectives on the medium completely transformed. Those first two and a half hours marked the beginning of a new life revolving around—maybe even depending upon—the screen and the depth of artistry, intellectual stimulation, and emotional exhilaration it can provide.

Latest posts by Ronan Doyle (see all)