Review: I'm So Excited (2013)
---
Cast: Javier Cámara, Pepa Charro, Lola Dueñas
Director: Pedro Almodóvar
Country: Spain
Genre: Comedy
Official Trailer: Here
---
Editor's Notes: For an additional perspective on I'm So Excited, read Jose's review.
Writer-director Pedro Almodóvar takes three steps back – actually, three decades worth of steps back – with his 19th feature film, I'm So Excited! ("Los Amantes Pasajeros"), a light, lightweight sex comedy. Thirty years ago, Almodóvar made his reputation as a prolific writer-director of transgressive, subversive films, but what was transgressive and subversive then (necessarily so, it should be added), isn't as transgressive or subversive after three decades of rapidly shifting social, cultural, and political views toward non-heterosexuals. Despite Spain's status as a Catholic county (with all the conservative values that implies), Spain has moved forward toward recognizing the rights, including marriage equality, for gays and lesbians (and to a lesser extent, transgendered men and women). Progress still needs to be made, however, but there's seemingly little recognition of those changes in I'm So Excited! There should have been.
There's little doubt that, at least on one level, Almodóvar wanted to return to his three-decade-old roots as a director of sex farces.
Never one to shy away from chance, coincidence, and contrivance, Almodóvar literally sets the wheels in motion when the oversight of a member of a groundskeeper (Antonio Banderas), excited about his wife's (Penelope Cruz) pregnancy, inadvertently makes an error that will soon leave the Mexico City-bound Peninsula Flight 2549 circling the Spanish skies while disinterested air controllers attempt to find an alternate airport willing to allow the plane to make an emergency landing. No other airport, however, seems to want Flight 2549, forcing the pilot, Alex Acero (Antonio De La Torre), and his co-pilot, Enito Moron (Hugo Silva), to keep the plane in the air indefinitely. The plane's chief steward, Joserra (Javier Cámara, Talk to Her), and two flight attendants, Fajas (Carlos Areces) and Ulloa (Raúl Arévalo), work to keep the passengers in Business Class from panicking or otherwise causing problems by plying them with alcohol and, later, mescaline. The flight attendants keep the passengers in Economy Class in blissful, inadvertent ignorance thanks to a sleep-inducing drug administered earlier.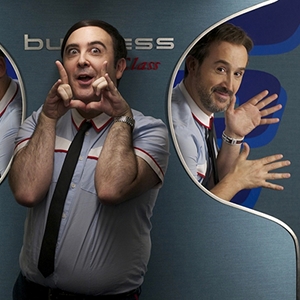 That leaves the pilots, the three flight attendants, and the Business Class passengers virtually alone for the duration of the flight (and the film). The pilots act reasonably enough, though Almodóvar, never one to shy away from foregrounding sex and sexual orientation in his characters, makes Alex, a married family man, bisexual, and Enito, an avowed heterosexual with sexual experimentation in his past (and possibly his future). As with all things Almodóvar, soap opera logic dictates that Alex and Joserra are long-time lovers. Joserra seems to want more (as in a long-term commitment) from Alex, but Alex isn't willing to leave his family. The flight attendants are not only gay, but they're stereotypically gay, prone to gossip, over-drinking, and ingesting whatever drugs happen to cross their respective paths. They're also natural-born entertainers, singing the title song by the Pointer Sisters (every bar, every refrain) near the end of the film.
The passengers in Business Class include Mr. Más (José Luis Torrijo), a fugitive financier, newlyweds (Miguel Ángel Silvestre and Laya Martí), Norma (Cecilia Roth, All About My Mother), a dominatrix and gossip mag regular, Ricardo Galán (Guillermo Toledo), a womanizing actor, Bruna (Lola Dueñas), a self-proclaimed virgin and psychic, and Infante (José María Yazpik), a mystery man with a possibly lethal agenda. When the situation begins to look dire, the characters use the only functioning telephone to call their significant others. Almodóvar briefly breaks from the claustrophobic confines of the circling plane when Ricardo, overcome by a modest amount of guilt and shame over past transgressions, decides to call one girlfriend, Alba (Paz Vega), but through a trick of fate, not to mention Almodóvar's sly hand, ends up talking to another lover, Ruth (Blanca Suárez). The conversations become all the more painful for Ricardo due to their very public nature - everyone in Business Class can hear both sides of the conversation.
Maybe, like the cathartic orgy that concludes I'm So Excited, Almodóvar simply needed to get the nostalgia out of his system.
There's little doubt that, at least on one level, Almodóvar wanted to return to his three-decade-old roots as a director of sex farces. It's there in the bright, candy-colored design of the airplane set, the passengers' clothing, and, of course, the sexual preoccupations and antics of the Flight 2549′s crew and passengers, but he also wanted I'm So Excited to work on a metaphoric and thematic level for Spanish moviegoers. The flight stands in for the hard-hit Spanish economy, faltering on the brink of collapse. The passengers in economy class represent the Spanish populace, oblivious to the economy's actual state or the political and corporate corruption, represented primarily by Mr. Más, but the other Business Class passengers, each obsessed with their personal problems rather than the larger issues affecting most Spaniards, bear some responsibility. Despite Almodóvar's intentions, however, I'm So Excited! never feels like more than a failed attempt to insert contemporary socio-economic issues into what's nothing more than a light, throwback comedy.
Not, of course, that there's anything wrong with a slight, soapy camp-fest, but it also feels like the Almodóvar of The Skin I Live In, Broken Embraces, Volver, All About My Mother, and Talk to Her has taken a sabbatical into a simpler, nostalgic time where the depiction of sexuality of the non-heterosexual kind was all a filmmaker needed to be considered subversive. That's not to say Almodóvar doesn't deserve credit for breaking boundaries and exposing social hypocrisies, but that was two or three decades ago. I'm So Excited! feels like nothing more (or less) than an intentional, but by no means welcome, regression for Almodóvar. Given Almodóvar's recent work, however, there's ample room for optimism. Maybe, like the cathartic orgy that concludes I'm So Excited!, Almodóvar simply needed to get a few things out of his system.
65/100 ~ OKAY. Almodóvar's intentions, I'm So Excited! never feels like more than an attempt, a failed attempt, to insert contemporary socio-economic issues into what's nothing more than a light, throwback comedy.


Mel Valentin hails from the great state of New Jersey. After attending NYU undergrad (politics and economics double major, religious studies minor) and grad school (law), he made the move, physically, mentally, and spiritually to California, specifically San Francisco. Mel's written more than 1,400 film-related reviews and articles. He's a member of the San Francisco Film Critics Circle.

Latest posts by Mel Valentin (see all)