This Week on Demand: 07/07/2013
---
Editor's Note: reviews this week are by Ronan Doyle, Jaime Burchardt, and Pete Volk
A hearty welcome to what must surely be the most comprehensive edition of This Week on Demand yet, with the June content drop providing plenty films of all shapes, sizes, and styles to take every one of your fancies. As always with these monumental movie dumps, there's a huge range to choose from: old films and new; Hollywood and world cinema; blockbuster and art house. A fine selection of 2013 offerings continues Netflix's current trend of beefing up new new content, and we're the victors with some of the year's finest documentaries.
---
13 Going on 30
Even though she made her first big impact in the flick world with Daredevil in 2003, it would be a year later before that world would bear witness to Jennifer Garner's finest hour (theatrically, anyways). She plays the adult version of Jenna, a girl who makes a wish at her 13th birthday party to skip ahead to age 30. Wish granted, and all of her dreams come true… but with a price. With the help of her childhood friend Matt (the adult version played by Mark Ruffalo), she decides to claim her life back, on her own terms. There's no denying that it's a silly concept, but it's executed with so much love that to deny being swept up by it would be silly itself. It's lively written, directed with sweet assertiveness by the late Gary Winick, and at the center of all it is a performance from Garner that's passionate, delightful and hands-down outstanding. HIGHLY RECOMMENDED. ~JB
---
The latest entry in Michael Apted's remarkable septennial series of documentaries tracing the lives of fourteen British children as they progress through life, 56 Up joins the prior seven films to form a whole far greater than the sum of its parts. Such is the cumulative effect of this incredible project: through births and deaths, marriages and divorces, hirings and firings, the evolution of these people between the individual films brings a profound resonance to the minutiae of ordinary life, in the process forging a drama infinitely more arresting than any fiction. 56 Up is perhaps the most fascinating of the lot, its frank and forthright discussion of the impact of the project on the lives it depicts adding an intriguing metatextual depth to the fold and making this a movie as much about itself as it is about life at large. With each of the prior entries also available, you have no excuse not to catch up. HIGHLY RECOMMENDED. ~RD
---
Antz
Antz was the first venture into the world of animated CGI flicks by a then-newbie Dreamsworks studio, and they sure made a heck of a first impression. The film stars Woody Allen—his one and only voice job—as Z, and he's one of the millions of ants that all share a colony. He's tired of being a nobody, and strives to be much more. His already-chosen life path changes when a chance encounter with the colony's princess (Sharon Stone) makes him do so much more than he thought possible. The rest of the voice cast is sensational, and for the most part it's an enjoyable example of how one person—or ant, in this case—can make all the difference in a big world. It's also noteworthy for being the first CGI-animated kids flick to be rated PG. Sure, that's not so uncommon these days, but you'll see why it caused a bit of controversy back in 1998. HIGHLY RECOMMENDED. ~JB
---
Penning his first feature since 1997's Metro, Tango & Cash scribe Randy Feldman makes an unexpected return in the form of Spanish-language comedy As Luck Would Have It, a deeply funny satire of modern society in all its disconcerting iterations. Primarily concerned with celebrity obsession, it's the story of a just-fired publicist who suffers a terrible accident and, desperate for money to provide for his family, attempts to sell exclusive interview rights. Feldman's script is spectacularly funny throughout, brilliantly delivered with believable absurdity by José Mota in the lead role. All the while effectively dramatic, it's a film replete with jabs at the failings of the modern world, remarkably black in the directions it chooses to take. Its many tonal shifts are expertly handled by director Álex de la Iglesia, who works wonderfully to extract the very best from Feldman's work. Few films released this year have been finer, funnier, or more frank in their depiction of contemporary society's failings. HIGHLY RECOMMENDED. ~RD
---
Buffalo Girls
"Buffalo", explains the text which opens Todd Kellstein's Thai-set documentary, is a derogatory term for the poor farmers who fill the country's rural villages. Stam and Pet, both 8 years old, are the daughters of two such farmers, and the major source of income to each of their families via their burgeoning Muay Thai careers. What's interesting about the film is the manner in which it steers clear of demonising the parents, as many might: Stam and Pet fight of their own volition, guided though that volition may be by the desire to see their families supported. It's at once Kellstein's strength and weakness that he lets this objectivity dominate the film, the non-judgemental tone welcome but the movie's intent thereby left vague, especially when Kellstein invests tension in the girls' eventual fight against each other. Whatever the aim, there's no denying how fascinating a story this is, how sad and yet strangely heroic these kids' lives are. WORTH WATCHING. ~RD
---
Christmas Carol: The Movie
Perhaps best known for work on the Oscar-nominated adaptation of Raymond Briggs' The Snowman, Jimmy Murakami returns to a Christmas setting with this animated rendition of Charles Dickens' classic tale, told with the vocal aid of Simon Callow and Nicolas Cage. Constructed within a strange little live-action framing narrative that sees Callow as Dickens reciting an alternate version of the story, it needlessly pairs old Scrooge with two dancing mice who follow his adventures, but otherwise remains loyal to Dickens' essence. Far from the finest adaptation of the novel, Murakami's Christmas Carol survives nonetheless on the timeless strength of the tale and the warm texture of Murakami's animation, which largely reserves itself for momentary flourishes of very effective, colourful creativity. Far from a standout, given the wide variety of better adaptations available, this Christmas Carol remains a perfectly affable offering, albeit one far from essential. WORTH WATCHING. ~RD
---
Confessions of a Dangerous Mind
Perhaps the least well-regarded of Charlie Kaufman's six produced screenplays to date, Confessions of a Dangerous Mind marked the directorial debut of George Clooney. Starring Sam Rockwell as gameshow host Chuck Barris, whose seemingly facetious claim to have been a CIA assassin by night is taken as a serious basis for a silly film, it's a work typical of Kaufman's strange operation on the border between reality and fantasy, though one less emotionally resonant—until the final act, at least—than his more acclaimed offerings. Clooney does well enough for a first-timer, his vision assured if not entirely a success; it's clear to see that this was an important stepping stone for the development of his visual style. Rockwell gives it his all, and the movie's successes are largely his: here ridiculous, there pitiful, he carries the incredulity of Barris' claims with humane hilarity, making enormously engaging a structurally flawed story. RECOMMENDED. ~RD
---
Everything about the marketing for Crawlspace suggests a refreshing new take on old sci-fi tropes, whether the beautiful old-school poster or the excellent, Alien-riffing tagline "In this space, everyone can hear you scream." Borrowing liberally from several of its generic forebears, Justin Dix's debut feature shows a keen appreciation of the films that came before, but constantly falls prey to the inexperienced director's inability to emulate the success of those earlier efforts. Seeing an assault team unleashed on an overrun underground laboratory and eventually paired with an amnesiac subject, it's Aliens meets The Fifth Element, but nowhere near as exciting or interesting as either of those movies. A lacking script is the primary culprit, few—if any—of the characters sufficiently defined, and as engaging as Dix's action can be, it's just not enough to overcome the tiresome effect of his troubling penchant for jump scares. AVOID IT. ~RD
---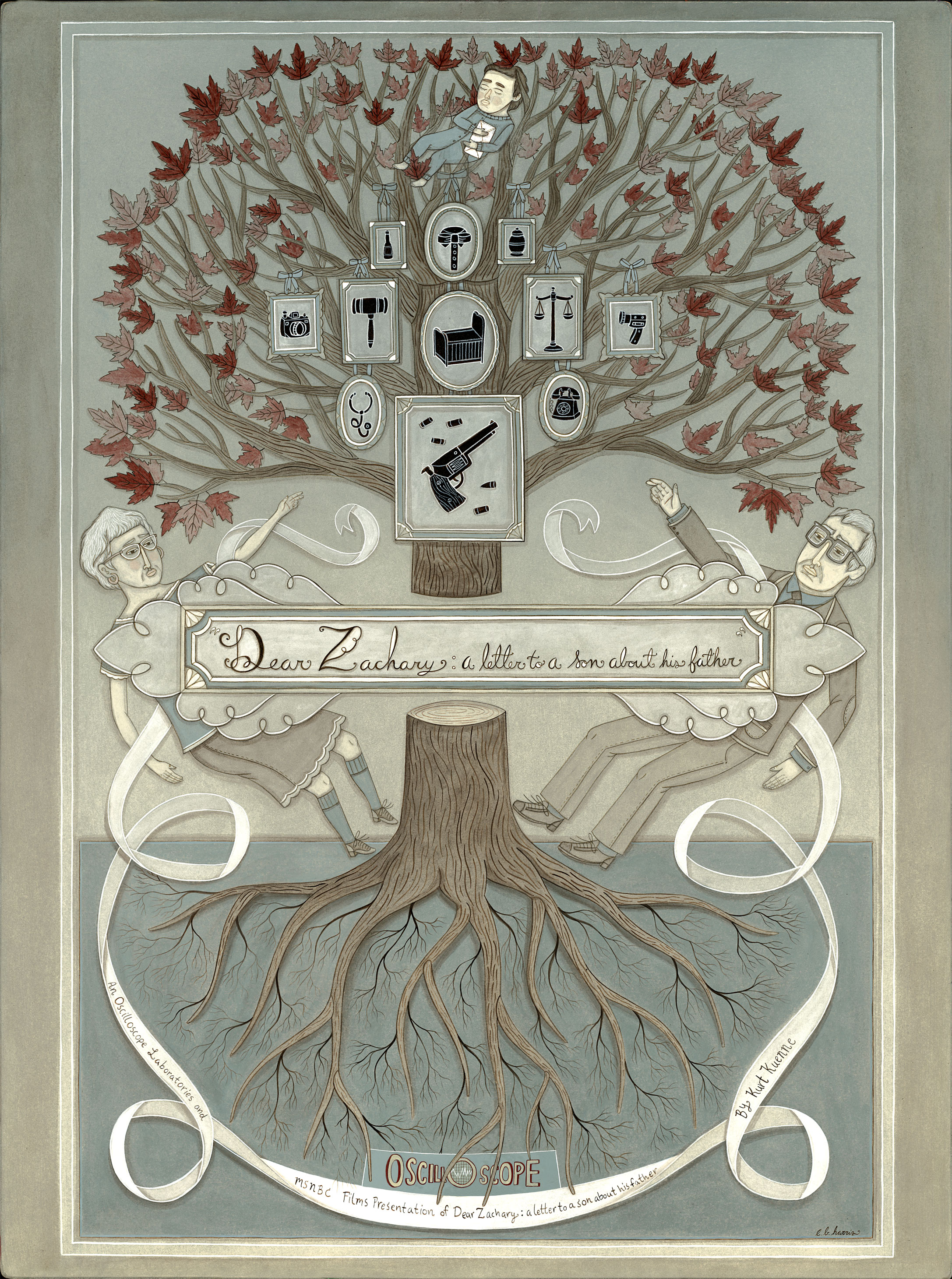 Dear Zachary: A Letter to a Son about His Father
Few, if indeed any documentaries can claim the same foreboding cult notoriety as Kurt Kuenne's passionate and powerful Dear Zachary: A Letter to a Son About His Father. Conceived as a means by which to introduce the unborn son of murdered medical intern Andrew Bagby to the father he would never get the chance to meet, it's an extraordinarily moving piece of work that brilliantly translates what should be a very particular focus to universal applicability via its quietly convincing invocation of family and friendship. Perhaps the immensely amateur look—Kuenne, of course, never intended any form of commercial release for the film—is paramount to the documentary's power, the raw passion of personal knowledge bursting through at various points in sequences of exhilarating agony, anxiety, and anger. For reasons that must be seen to be believed and appreciated, Dear Zachary is an incredible achievement of cinema, and one of the greatest documentaries ever made. MUST SEE. ~RD
---
Heaven Can Wait
In a career that's spanned nearly five decades, Warren Beatty has only directed four theatrical flicks. What's a kick, though, is that each one earns the phrase "contemporary classic", and it all started in 1978 with this terrific, genre-bouncing crowd pleaser. Beatty directs himself—along with co-director Buck Henry—in a tale about a pro-football quarterback whose soul gets taken away by an all-too-eager angel. To make matters worse, they can't simply give him back his body, and instead they put him in the body of a millionaire that was just ready to kick the bucket. Heaven Can Wait goes about its business in unfamiliar territory, as if it was just another 1970s comedy when it's the quite the opposite, its most endearing quality. It's thoughtfully original—and later remade in the Chris Rock flick Down to Earth—thoroughly paced and the screenplay is top notch. It was just a taste of what was to come from Beatty, the director. HIGHLY RECOMMENDED. ~JB
---
Killing Zoe
Released the same year as Pulp Fiction, which went on to win an Oscar for his and Tarantino's script, Roger Avary made his directorial debut with Killing Zoe, a Paris-set bank heist movie specifically targeted at the affectations of Generation X. Starring Eric Stoltz as the expert safe cracker and Julie Delpy as the escort he encounters again in the midst of the job, it's an appreciably different approach to a familiar plot structure, albeit one not well enough scripted to rise above mediocrity, its representation of the drug-addled layabouts saying little of actual worth about them. It's not without its fun: Avary may be a much weaker solo writer than Tarantino—who executive produces here—but his dialogue is the film's strength, injecting the relatively staid narrative with a good helping of humour. It's not a very well directed film, however, and Avary's far lesser success than his cohort isn't exactly hard to understand. SO-SO. ~RD
---
Less Than Zero
Like a less effective Brick, staging a more "adult" drama—with more "adult" dialogue—in a younger setting, Less Than Zero is notable only for the remarkable performance given by Robert Downey Jr. as the drug-addled Julian Wells. Downey and James Spader, playing Julian's drug-dealing psychopathic friend Rip, are the only two actors in the film able to make it all work, and it's easy to see why the careers of co-leads Andrew McCarthy and Jami Gertz came to a grinding halt soon after (I cannot tell you two things about either of their vanilla-white characters). With lazy direction and a revolting turn towards victim blaming, Less Than Zero gets worse—much worse—as it nears its bombastic finish, but it's more than worth it if you're willing to take yourself outside of what the film wants you to think. Instead, create your own imaginary film with Julian as the tragic hero, instead of McCarthy's terrible Clay. SO-SO. ~PV
---
Lunarcy!
"Without dreams, we're just dogs on two feet," ventures one of the interviewees in Lunarcy!, a variously hilarious and heartwarming documentary that takes the obsession of a select few individuals with the moon as a conduit to exploring just what that celestial body represents to our race. Director Simon Ennis teases a remarkably affecting narrative from the shared story of people who—in the hands of a crueller filmmaker—would be the source of scorn; he is able to laugh at their eccentricity, certainly, but only with a sort of bemusement that resists taking these characters as targets and treats them as fellow humans with their own peculiarities. It's almost like a Christopher Guest film transposed to the real world; indeed, for a time it seems strange enough that it might well be a mockumentary. But no: Lunarcy! is one of the year's best documentaries to date, an immensely watchable and eccentrically entertaining viewing experience. HIGHLY RECOMMENDED. ~RD
---
Mother
Watching a film like Mother, it's easy to forget Albert Brooks' face will be most familiar to modern audiences as the sadistic villain of Drive. Playing a twice-divorced novelist who moves back in with his mother, he's just about as far from threatening as it's possible to be here, playing the role with a delightful mix of frustration and fatigue. His script—he also directs—zips with cynical wit, his reactionary role to Debbie Reynold's overbearing mother character as constant in its hilarity as in the universal familiarity of the mother-son relationship he portrays. Yet for all the caustic humour on which the film is founded, it's every bit as warm, the constant undercurrent of drama just as essential to the story as its unrelenting funniness. Structurally unremarkable, it's on the strength of this relationship that the movie is forged; Brooks and Reynolds are more than well-equipped to sell it. RECOMMENDED. ~RD
---
Nick of Time
It's no great surprise that the careers of writer Patrick Sheane Duncan and director John Badham have gradually moved toward the less auspicious end of television since the release of 1995's Nick of Time, an exceptionally unremarkable thriller that does little to attest the skill of either man. Starring Johnny Depp in a role so ordinary it would be positively daring by the actor's current standards, it's the story of an average accountant forced to assassinate the governor of California when his young daughter is held hostage. Not a bad basic concept, it's boosted by a real-time approach that allows the drama to unfold like a low-rent version of 24. Alas, neither Duncan nor Badham have the skill to bring a good idea to fruition, and the film plays out as dully as imaginable, so boring in its execution it even manages to waste a moustachioed Christopher Walken. AVOID IT. ~RD
---
The Boxer
The third pairing of director Jim Sheridan and star Daniel Day-Lewis after the Oscar-winning My Left Foot and Oscar-nominated In the Name of the Father, 1997's The Boxer earned the pair no such Academy acclaim. It's not entirely unsurprising: Sheridan and Terry George's script is a problematic foundation for the film, its straightforward story of forbidden love doing a disservice to the political complexities of the contemporary issues in Northern Ireland, where the film is set. Day-Lewis, unsurprisingly, is terrific as the eponymous fighter newly released from prison following a conviction for sectarian violence fourteen years prior, whose efforts to start a non-denominational gym fall foul of his former friends. Emily Watson, too, is excellent even in a problematic role as the love interest, whose obligation to her imprisoned spouse is the source of the drama. It's thanks to their talent and Sheridan's that The Boxer transcends its familiarity to become quite so affecting. RECOMMENDED. ~RD
---
After 2010's The Expendables proved that, indeed, an all-star reunion of the Hollywood's '80s action heyday was too good to be true, few had any interest at all in Simon West's sequel. Not only is The Expendables 2 everything the original film promised: it's much more too, replacing the dreary tone of the first effort with a wickedly tongue-in-cheek self-referentiality. Exceptional fun from start to end, this is a movie that understands exactly how stupid its central idea is and flies with it nevertheless, constructing in the process a delicious throwback to the excess of yesteryear with a generous helping of postmodernism. Stallone, Schwarzenegger, and Willis trade barbs with giddy aplomb, each better here than they've been in years; the rest of the cast are used with similar invention and wit, having all the fun in the world; West conducts his action commensurately: The Expendables 2 is a dizzy, delirious blast any action fan should love. RECOMMENDED. ~RD
---
The House I Live In
Rightly acclaimed for its frank, comprehensive coverage of the perseverant myths that allow the "War on Drugs" to wane on, The House I Live In is an enlightening watch indeed, enlisting the aid of guests as knowledgeable as The Wire creator David Simon to explain the worrying number of problems that surround this institutional crusade against low-level users. Informative at every turn, it's the kind of documentary that makes you repeatedly mouth "wow" as troubling facts and figures are rolled out one after the other, federal judges and officers on the streets offering essential insights into the failings of this system. If the film lacks an emotional centre, it's because it has so many aspects to cover; director Eugene Jarecki makes an earnest effort to tell the overarching story through the experiences of one family, an enterprise that's admirable, if not entirely successful here. His failures are nothing, though, compared to his success in communicating so stark a message. HIGHLY RECOMMENDED. ~RD
---
The Ledge
Militant Atheism: The Movie would not be an inappropriate alternate title for The Ledge, a film every bit as obnoxious in its views as the Christian character it smugly demonises. What a horribly hateful movie this is, the cruel smirk it wears as it needlessly misrepresents the views of others enough to turn off anyone, no matter their faith, or indeed lack thereof. Told via flashback as an emotionally-troubled cop attempts to talk down a hotel manager threatening suicide from the eponymous ledge, it's a film filled with worthy performances—most notably from Charlie Hunnam and Liv Tyler—but utterly unable to use them in any meaningful way. Crudely attempting to dress itself up as some noble nod to civil rights, it's a film that seems hopelessly—maybe even hilariously—unaware of its own wrong-footedness, continuing on with its hateful bilge as though it were heroic. Almost worth watching, just for the bizarre stupidity. Almost. AVOID IT. ~RD
---
The Parallax View
Every once in a while, a new kind of cinema is invented. In 1974, Alan J. Pakula attempted such an invention, and while the result is by no means a complete success—I can count on my hands the amount of films that are)—The Parallax View is a definitive 1970s film that introduced a new genre and new themes. Joe Frady, played by Warren Beatty, plays a newspaper reporter looking into the mysterious assassination of a presidential candidate at the Space Needle in Seattle. As those around him die while he looks into it, Frady slowly unravels along with the plot and the film itself. What follows is a truly marvelous and unique film that was well ahead of its time and holds up remarkably. MUST SEE. ~PV
---
Guilty pleasure is a term tossed about all too often in terms of movies: why, when something gives you pleasure, should there be any guilt in it at all? It's a valid question put to the test by Nick Love's The Sweeney, as sleazy a film as ever there was, but almost as enjoyable too. It stars Ray Winstone in an update of the successful '70s British TV show as a free-wheeling Cockney cop leading a team all-too comfortable in stretching the law, so successfully putting its elasticity to the test that they attract the ire of internal affairs. A silly, stupid fi0lm at every turn, The Sweeney is also incredibly entertaining, Winstone's delicious line delivery—never better than when dubbing a suspect a "villain" or, hilariously, a "slaaaaaag"—key to his decadent devouring of the scenery. It's only in Love's occasional, ill-advised efforts to breed drama within this ludicrous story that the film grows wearisome. Thankfully, they are few. WORTH WATCHING. ~RD
---
The Taste of Money
The latest offering from South Korean critic-cum-auteur Im Sang-soo, The Taste of Money is a phenomenally photographed insight into the bloated excess of the country's upper upper class, its story that of an obscenely wealthy family that crumbles under the weight of their own lies and infidelities. Taking aim at exceptionally easy targets, Im seems every more concerned with the look of the piece than its purpose: this is an immaculately constructed movie, but a curiously pointless one too, never terribly insightful or all that involving, despite the jaw-dropping beauty inherent in every frame. With performances every bit as pretty as the framing and lighting, The Taste of Money makes of itself only a dreadful mess, the myriad talent evidently gone into its production simply wasted on so lacklustre—so lazy—a script. Never was the dangerously-close-to-cliché "all style, no substance" critique better deserved; this is as thematically awful as it is cinematically stunning. SO-SO. ~RD
---
The Truman Show
A film that's only grown more resonant and disturbing with time, The Truman Show joins the like of Albert Brooks' Real Life as one of those few scarily premonitory films to guess the full extent of reality TV's rise in American culture. Jim Carrey is at his typical cheery best as the titular character, a man living—unbeknownst to him—in a constructed reality for the entertainment of audiences the world over. Ed Harris chairs the prominent religious undertones as Christoph, the all-seeing director who controls—or at least seeks to control—his subject's every waking moment. A witty, wary treatise on free-will, self-determination, love, and—of course—the growing influence of the television screen, The Truman Show's reputation rightly grows by the year as a seminal work of cinema. It's not perfect, but its perfect premonition is more than enough to forgive it the flaws of sentimentality, and earn it an eternal spot in cinema history. HIGHLY RECOMMENDED. ~RD
---
Tokyo Godfathers
Satoshi Kon was another filmmaker that only made a handful of flicks, but each one of them counts. His filmography was cut short when he died in 2007, a loss that still hits close to home. So with this viewing of Tokyo Godfathers, emotions ran rampant. This 2003 anime wonder-tale takes place on Christmas Eve, where three homeless friends find an abandoned baby and take it upon themselves to find its parents. The selling point of all of Kon's films is simple: you'll be taken to another world, even in the most down-to-earth, realistic settings. It's visually stunning, gorgeously animated, but even all of that would be useless if it weren't for his masterful understanding of human nature. The journey you take with these people is humorous, heart-wrenching, thrilling and breathtaking. Fun fact: I blind-bought this flick years ago. Even if it wasn't on Netflix, I'd urge all of you to do the same thing. Kon is dearly, dearly missed. MUST-SEE. ~JB
---
Trekkies
An upbeat, entertaining ode to the endearing fandom that enshrouds Star Trek in all its many iterations, Trekkies—or should that be Trekkers?; the answer is discussed herein—takes a tour through conventions aplenty in search of the essence of this oddly enduring popularity. Perhaps it's a futile search: such is the inexplicable mania with which so many of these fans pursue their passion that it seems it may just be one of those things that is. Director Roger Nygard certainly never reaches any profound conclusions, despite the many insights into the series' socio-political resonance he, and his plethora of interviewees including cast and crew, offer. Released in 1997, it already shows the sign of age, which is arguably as much a charming benefit as a drawback. Enlightening enough to draw in newcomers, excited enough to hold the attention of fans, Trekkies is a fun little documentary, if an inessential one. WORTH WATCHING. ~RD
---
Twins
Arnold Schwarzenegger and Danny DeVito play twins. Let that sink in for a few moments, and while you're doing that, also keep in mind that this is from your good pal, the 1980s version of director Ivan Reitman. They're physical twins but were separated at birth and put into different worlds. They're both grown, and Julius (Schwarzenegger) ventures into the unknown jungle that is Los Angeles to find his brother Vincent (DeVito), leading to a road trip for the ages. As the movie's aged, so have the initial thoughts changed. Most people that grew up with it—like me—could possibly love it just as much now as back then, but new viewers might be thrown off by the murderous subplot. Regardless, it's a fine job all around, and the chemistry between the two leads is infectious. RECOMMENDED. ~JB
---
Venus and Serena
The go-to barometer for the success of sports documentaries is how well they impact those utterly ignorant to the machinations of the game concerned. With tennis—who am I kidding, with every sport—that's me; the namesakes of Venus and Serena are to me just that: names. Maiken Baird and Michelle Major's film is sufficiently educational to work, even if it falls all-too-often into the disconcerting territory of celebrity gossip. Discussing the Williams' many siblings by their father is an odd distraction from what should be the true focus of the film, and a conspicuous weakness that almost overthrows the documentary halfway through. Lucky, then, that Baird and Major have the sense to return focus—eventually—to the athletes' careers, and the racial and gender politics that surround their success. That's the story to attract all viewers, and it's fortunate the film manages—in time—to tell it. WORTH WATCHING. ~RD
---
Windtalkers
There may be no sadder tale of a filmmaker's fall than John Woo, who turned a phenomenal career making truly innovative Hong Kong action films into a Hollywood career making some of the worst films of this still-new century. Windtalkers purports to tell the story of the brave Navajo code talkers who helped win World War II, but instead stages it through two white characters (Nicolas Cage and Christian Slater) and tells the story of how racism—in the film's eyes, an individual and not a systemic problem—was defeated in the 1940s through the generosity of white people and the willingness of natives to forgive. The film's ending is one of the more offensive things I have ever seen, and most of the runners-up take place at other points in Windtalkers. As expected with a Woo film, the battle scenes are tremendous – but not nearly enough to make up for the rest of it. UNWATCHABLE. ~PV

Having spent the vast majority of my life sharing in the all too prevalent belief than cinema is merely dumbed-down weekend escapism for the masses, I was lucky enough to turn on a television at the exact right moment to have my perspectives on the medium completely transformed. Those first two and a half hours marked the beginning of a new life revolving around—maybe even depending upon—the screen and the depth of artistry, intellectual stimulation, and emotional exhilaration it can provide.

Latest posts by Ronan Doyle (see all)