TIFF 2013 Interview: TIFF Programmer Rasha Salti talks about TIFF13 and the festival selection process
---
Editor's Notes: The following interview is part of our coverage of the 2013 Toronto International Film Festival. For more information on the festival visit http://tiff.net and follow TIFF on Twitter at @TIFF_NET.
Rasha Salti is a curator/writer and is currently the international features programmer (Africa and the Middle East) for the Toronto International Film Festival. Earlier in 2013, Ms. Salti curated Rebel Yell: A New Generation of Turkish Women Filmmakers, a selection of powerful and intimate films that exhibited the social, economic, and cultural climate in Turkey through the eyes of nine female filmmakers. She took some time out of her busy schedule this week and granted Next Projection an interview.
Jacqueline: Could you tell us a little something about the inner workings of the selection process for TIFF? For example, how many entries do you get, who are the screeners, how many films do you personally watch, etcetera?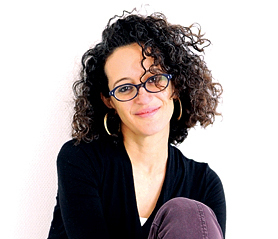 Salti: One of the reasons I love my job is precisely the inner workings of the programming team and the structure of the festival's program. As you can tell, the festival's sections are about genre, only 'City to City' takes into consideration place or a geographic reference. The programmers are either assigned territory, as in my case or genre, so Thom Powers programs TIFF Docs (among other sections), and Andrea Picard experimental cinema, artist films and sometimes video art works under Wavelengths. So when I look at a documentary or artist films, I will discuss them with the programmer concerned. In that regard, the selection process, which stretches over weeks, is the result of a dynamic conversation between the programmers. This, in addition to an on-going conversation the festival's artistic director, Cameron Bailey and our team director, Kerri Craddock. I also appreciate the exchange with our programming coordinators and associates who assist each programmer. They do a great deal of the pre-screening and flag submissions that we may have missed.
I don't have an exact number of submissions from my territories, but I know that this year's overall number was the highest to date. The 'geo-cultural' or territorial assignment of films is also subject to an engaging discussion. Especially considering the territories I am assigned to, where there is remarkable collaboration and co-productions between the African continent, the Middle East and European countries, and a notable number of filmmakers and producers hold dual nationalities. In these cases, more than one programmer look at the films. The inner workings of our programming team, and the fact that there is so much trust, respect and affection, allow us to be adaptable and flexible. I am not sure that at this stage I can tell you how many films I have watched. My memory is drawing a blank, no doubt because the past two weeks have been so focused on the run-up to the festival opening.
Jacqueline: Tell us a bit about your background with TIFF and film.
Salti: This would be my third year as an international programmer. I generally work in film as well as in the visual arts as a curator. I also write.
Jacqueline: What do you look for in a film? What's important to you in exposing the film-going world to the films of Africa and the Middle East?
Salti: First and foremost is artistic excellence. Next come other considerations that have to do with striking a balance in my overall selection (the total number of films I am asked to contribute to the festival program), and lastly, an awareness of what TIFF and Toronto audiences might actually not respond to. TIFF is a very plural, diverse, rich and engaging festival, but not every film can stake a 'happy' place here. This last consideration is part of my learning curve.
This said, I feel extremely privileged to have been assigned both the Middle East and the African continent as my mandates. These two territories are often in the news for the worst or most disheartening reasons imaginable, and thus their 'representations' in mainstream culture (even among politically liberal circles) are sharply –if not tenaciously– defined. At the same time, they are experiencing creative surges in a wide variety of art fields, in part emboldened by social and political upheaval. This sense of privilege comes precisely from the fact that I find myself in a position to witness and observe this surge first-hand. And this is one of the motivations behind showcasing my selection at TIFF: to share films from places at once far-flung from Toronto and harnessed within 'prescripts', that convey a radically different lived experience, representation and poetics. Cinema does not 'explain' our understanding of the world, it complicates it, because life, human beings, cities, strife, love, departures, longings, everything is complicated.
Jacqueline: Do you get nervous before TIFF?
Salti: Very. At heart, to me, film and cinema have ingredients of 'magic', or at least that is my conviction. In the weeks prior to the festival opening, I walk around like someone who has been spellbound, and who is preparing for the moment when the 'spell' I have experienced will be shared by hundreds of strangers, in a movie theater, in the dark. On the one hand, there is the thrill of anticipating sharing that pleasure of being spellbound with these hundreds of strangers, and on the other hand, there is the concern that they just might not be as charmed as I was, or not at all. The first hurdle, to incite movie-goers to buy tickets is not as bad as the moment of truth, the moment when the theater goes dark and the screen is alight… and then the film ends, credits roll… This is what I am nervous about, ten days, several times a day, repeats of that moment of truth.
Jacqueline: What makes you decide to program one film over another?
Salti: All the considerations I cited above. I will illustrate by elaborating on one of the films in my selection, The Battle of Tabatô, directed by Joao Viana. Viana is Portuguese, but was raised in Guinea-Bissau, and has had deep attachments to the country. He has directed several short films, but The Battle of Tabatô is his first feature. Viana is poetic filmmaker, his film is non-narrative, undoubtedly art-house and remarkably accomplished. In the past couple of years, much ink has been spilled about the singularity of Portuguese cinema as well as its vitality, and in that regard, Viana incarnates that movement. Although visually stunning, shot in black and white, the film's originality actually lies the work the filmmaker vested in sound. It, perhaps more than the visuals and dialogue, embodies the unraveling of the characters' interior drama and film plot, weaving intricately local instruments, music, and sounds of objects. To someone familiar with traditional African folk takes, the film's structure is easily decipherable, and the richly evocative sound is not an unfamiliar medium. To someone familiar with the work of Miguel Gomes, Viana seems thoroughly Portuguese. In the end, how film critics and historians will interpret the film does not make a difference, it dwells in a fascinating in-between world of aesthetic references that have shaped the filmmaker. In terms of 'territorial' affiliation, it also dwells in an in-between, but I decided to invite it because it was too original and strong to ignore. Furthermore, the film had made its world premiere at the Berlinale in February, but I am aware that the likelihood the film would get theatrical release in Canada is so slim, that a showcase at TIFF would give it a different exposure and Toronto audiences could discover it. And last but not least, the film's subject matter –the ghosts of war haunting a country that has not come to terms with a traumatic past– as well as the filmmaker's poetic treatment of such difficult questions were prescient, captivating.
Jacqueline: Any particular films you are excited about at TIFF and in theatres currently?
Salti: I am excited about all my films at TIFF, and whatever I have already seen from my fellow programmers' selections. This is a very strong year. I am not sure what the implications are on the state of the industry or trade, but if you think of TIFF as a vast congress of the world's 'imaginary', then you are reassured that humanity is empathetic to its global condition, that it has a conscience, a strong sense of justice, humor, that life is full of poetry and misfortune, that the voiceless find a voice and the invisible an image.
Jacqueline: Any specific thoughts/impressions/advice regarding African and Middle Eastern films or filmmakers?
Salti: There is a tendency to forget that film was and remains the seventh art. Like all works of art, it is a proposition. There are very few 'perfect' films, and while perfection is delightful, ultimately, I find it uninteresting because it is final, so accomplished that it has achieved what its author wanted it to. In that regard, it is arresting, in all senses of the word, breathtaking, but also inhibitive. Imperfection is far more interesting because it is where the spectator is most able to forge a subjective meaning, a reading, interpretations. Some imperfections are so rich with possibilities, they allow the viewer to fashion a film of their own. This is what is so captivating about the cinema from the African continent and Middle East, the creative surge is essentially a dynamic, inspired search for forging a cinematic language, films are propositions pregnant with a myriad possibilities, their imperfections are evocative, hopeful, thrilling. The cinema from these territories is fearless, affect-less and generous.
As you can see, Rasha Salti is passionate about the art of film. Make sure to check out her selections for this year and if you see her, make sure to thank her for her ongoing contributions.

I'm a published writer, illustrator, and film critic. Cinema has been a passion of mine since my first viewing of Milius' Conan the Barbarian and my film tastes go from experimental to modern blockbuster.

Latest posts by Jacqueline Valencia (see all)