JDIFF Review: The Congress (2013) - NP Approved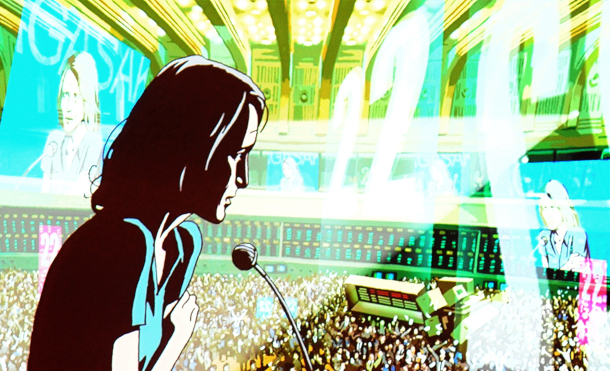 ---
Cast: Robin Wright, Harvey Keitel, Jon Hamm
Director: Ari Folman
Country: Israel | Germany | Poland | Luxembourg | France | Belgium
Genre: Animation | Sci-Fi
Official Trailer: Here
---
Editor's Note: The following review is part of our coverage of the 2014 Jameson Dublin International Film Festival. For more information please visit jdiff.com or follow DublinFilmFest on Twitter.
Ari Folman wowed me again with his surreal and beautiful animation. His last animation Waltz with Bashir (2008) hailed him as a unique filmmaker and The Congress only serves to confirm these declarations. Living up to expectations is one thing, surpassing them is entirely another. With Folman's animation style, his thought provoking narrative, and experimenting with the genre of sci-fi, The Congress is, in a nutshell, the most inventive film I've seen so far this year and has become an instant favourite.
Folman's fantastic narrative is based around the star of The Princess Bride (1987) fantasy phenomenon actress Robin Wright. Her fame at a young age was followed by a life of bad career choices. In The Congress she plays herself. Living beside an airport runway in a converted shed with her two child family, her bohemian lifestyle is freer than what the Hollywood studio system offered her. Backing out of films last minute to be with her hearing impaired son, she spent her life just not playing to the conventions of the Hollywood star system when it was in full swing. It's said that when she was working, stars still held contracts with the studio that looked after them and got offers regardless of their decisions. Now washed up, Miramount lay a contract on the table, and have made it clear that it's her last.
The satire of the studio system is made comedy by Folman as he makes intelligent comments on how films are marketed and produced.
Folman presents us with an altogether oddly familiar stance of digital doubles. The contract is to digitally sample all of Robin's emotional states and so encapsulate her as a computerized figure that they can use in place of the actress herself for film work. As such, Miramount will own her—the digital copy will get work but the actress will get the one pay off for her scan to create the double. The studio can do what they want and the form of the actress as we understand it today, no longer exists as an original within the films they will star in. The actress will become tangible in a completely different way for the studio's use.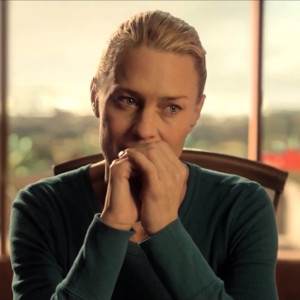 We as cinema viewers are very used to appreciating the work of stunt doubles in live action and now digitally animated versions of live action actors through motion capture technologies. The futuristic technology on display in The Congress seems not far off to what we are used to seeing in behind the scenes stills of green screen technology in action. The scanning machine itself is a small stage domed in by lights and scanners, very similar to the ping-pong ball style suits they use to motion capture the movement of a live actor. Folman's vision of the future rings true as sooner or more possible than the sci-fi narrative would have us believe.
In its own right, The Congress is a contextual debate about the state of the film industry at present. While the world is busy converting to purely digital technology, replacing projectionists and 35mm reels with digital boxes covered in buttons, it's clear that the digital age has no time for the raw skill of film screening. Folman conversely points out that it's more convenient and reliable for the studio to have a digital actress and animators strapped to a computer. This is how the film industry is changing and what he's openly suggesting rings true with stunt men being replaced by purely CGI special effects.
As Robin goes forward with this idea and is persuaded by her family and life long agent, her concerns echo those of the film industry. The studio will not even consult the actress when they use her for scripts, so her immediate concern is on her loss of identity. It's her persona, but it's not at all her. The satire of the studio system is made comedy by Folman as he makes intelligent comments on how films are marketed and produced. Behind his desk the studio adviser says that 1/1000 people who saw the Lord of the Rings films read the book, and that's why the studio makes the films. Forms of entertainment are dramatically changing with the progression of technology and making a smart quip at the fact that Hollywood mainstream cinema appears to be duping the masses intellect will turn on light bulbs for most viewers who've experienced this first hand. Difficult subject matters are handled brilliantly by Folman, and this is just in the first short section of the film.
The first few minutes you're watching the animation is like a spectator sport of the highest irregularity, completely glued to the screen and unable to take in absolutely everything that's happening. Visually arresting and gratifying to watch.
Where Folman ventures next is what makes him stand alone as a director of great quality and vision. Removing the feature from the live action it began with, Robin twenty years later enters the studio system in a surreal animated form. The animated sequences are completely fantasy based. A multi-coloured muddle, not unlike the tripped out, completely wacky resolution of The Beatles film Yellow Submarine (1968). It's combined with the mentality of some of the best anime feature films, such as Paprika (2006) or Akira (1988). It's so beautifully fluid and stylised, bizarre and magical. The first few minutes you're watching the animation is like a spectator sport of the highest irregularity, completely glued to the screen and unable to take in absolutely everything that's happening. Visually arresting and gratifying to watch.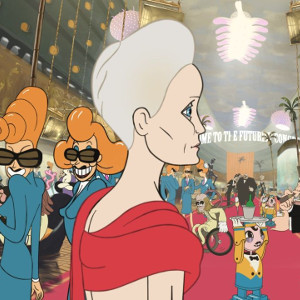 In the animated world of the studio hotel, Miramount are combined with Nagasaki labs to develop potions that enable you to look and feel as you desire. Inside the hotel what you see is what you choose to see. The newest potion will allow free choice and you can be your dream persona, the reason why Robin has been called here. Her latest contract will allow fans to drink her. The odd experiences and the strange characters we meet remind me of the surreal world of Salvador Dali and the animation of Terry Gilliam. What Robin is experiencing is directly reflected in the amazing animated features around her. Emotionally powerful, the animations allow for impressively memorable moments. If somebody can beat this is the next five years, I'll eat my hat.
I love Folman's radical spiritualism that comes across in his directing. With force and impressive ability to create and develop something powerful that takes viewers to an experience so unique, that can at the same time speak volumes socially and politically. He's a true auteur and craftsman.
The narrative is at times self-reflexive, so superbly scripted I fail to find fault. It feels like something so extraordinary I can't wait to watch it again. I'm sure there are tonnes more that a second viewing can encourage out. I left the screen with a lump in my throat and raw I felt like I'd just been burn by a flame that shone brightly and magnificently. A triumph of wills and visuals.
90/100 ~ AMAZING. The Congress is a triumph of wills and visuals.

The following two tabs change content below.

Currently Belfast based film reviewer, once a film theory student (BA 2:1, MA with distinction). I share a deep fascination with Asian cinemas and am mostly interested in cinematography. Documentary film is probably my favourite genre if I had to pick one. Monster movies, classic comedy like Chaplin or the downright bizarre are among my favourite viewings. My passion for film boarders obsessive like any cinephile would say. I'll watch anything once, but can guarantee I'll have something to say.

Latest posts by Laura Shearer (see all)