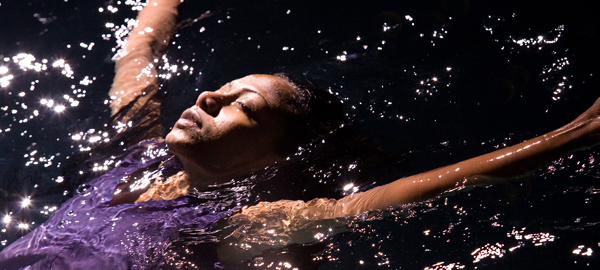 Dir. ROHAN FERNANDO
2011
Review by Christopher Misch
The 11th Annual ReelWorld Film Festival began in impressive fashion last night with Rohan Fernando's tsunami drama, Snow. Sri Lankan born actress Kalista Zackhariyas plays Parvati, a devastated young woman who saw everything she knew swept away amongst the devouring waves of the 2004 Indian Ocean tsunami; one of the deadliest natural disasters in recorded history. With no family to be found in the aftermath of the tsunami she is forced to immigrate to Canada to begin a new life living with her uncle's family in Halifax. Coupling the immense pain of losing those most dearest to her with with the difficultly of adapting to a foreign land, Parvati struggles to get by. Even her day to day routines seem tedious, and it is here that actress Kalista Zackhariyas is able to embody the essence of a lost soul. Parvati soon comes to the realization that her household situation with her uncle is an undesirable one and with just the few dollars in her pocket and the clothes on her back, she heads for the coast unsure of the future that awaits her.
Director Rohan Fernando's inspiration for Snow came to him during the production of Blood and Water, a documentary that explored the effects the tsunami had on his dear uncle, who's wife and daughter were amongst the two-hundred-and thirty thousand killed when the Indian Ocean Tsunami came ashore. With Snow, he is able to explore the internal processes for those coping with such an immense lose; something that couldn't necessarily be accomplished within the confines of a documentary framework.
Fernando take us deep into the heart and mind of Parvati in an attempt to understand the pain of such a loss, and fuses this story of someone who has lost everything with his own story of immigration to Canada, and the separate difficulties associated with that transformation. Filmed on location in Halifax, Snow is a bleak, emotionally arresting tale about moving forward and finding the strength in the face of adversity and about just how transformative, an even hopeful, loss can ultimately be.
[notification type="star"]70/100 – A bleak, emotionally arresting tale about moving forward and finding the strength in the face of adversity and about just how transformative, an even hopeful, loss can ultimately be. [/notification]

Review by Vakeesh Velummylum
Prior to the earthquake off the coast of Japan that set off a tsunami that ravished the Japanese coast, there was the Boxing Day tsunami of 2004 that demolished parts of Indonesia, India, and Sri Lanka.  Many that were affected were rehabilitated and built new foundations and a new means of life.  Some were fortunate enough to find new homes amongst relatives in the international diaspora of Sri Lankans.  Rohan Fernando uses this migration as the premise for his film Snow.  The film is centered around Parvati (Kalista Zackhariyas), a young Sri Lankan woman who's family was taken away from her with the drowning grips of the tsunami that hit the Eastern shores of Sri Lanka.  Her migration to Canada to live amongst her relatives comes at the cost of feeling alienated from all that she has ever known.  Parvati's difficulty in adapting to a new and foreign world and her longing for a connection and warmth she once had in her past takes her on a journey which further challenges her ability to adapt to circumstance with themes of love, compassion and survival.
Considering the financial constraints of a micro budget, the film's production does great justice to its economical framework.  Snow's captivating opening sequence was actually shot in a Mayan village in Central America on set of another Rohan Fernando project, yet still manages to be convincingly from the Pearl of the Indian Ocean.  The captivating performance of Kalista as Parvati is notable considering this film is her first feature.  Equally recognizable is the performance of Pardis Parker as Uthayan, an eligible bachelor.  His awkward expressions and fixated banter leads to well executed comic relief in an otherwise emotional drama.
Fernando's infusion of Sri Lankan culture and Parvati's deep connection to her roots as well as her past can be seen in symbolic references as well as the motif that is her reoccurring dream.  Snow does a great job in showing cultural disparities as well as the hardships of alienation to the point one wonders to what acclaim a larger budget could of contributed.
[notification type="star"]70/100 – Does a great job in showing cultural disparities as well as the hardships of alienation to the point one wonders to what acclaim a larger budget could of contributed.[/notification]