TIFF Romania 2013 in Review
---
Coming to a close tomorrow after ten days of celebrating cinema, the twelfth annual Transilvania International Film Festival—Romania's biggest and, until 2009, only festival for international features—has placed in the spotlight a number of the foremost emergent talents around the globe. Dedicated particularly to first or second-time filmmakers, TIFF Romania has previously awarded the coveted Transilvania Trophy to films as diverse as Oslo, August 31st, 12:08 East of Bucharest, and Whisky.
It's a deeply impressive slate of movies this year: other than the twelve films playing in competition, the festival offers a series of filmmaker retrospectives—among them Stephen Frears and Olivier Assayas—and a wide-ranging selection of sidebars, including those dedicated to apocalyptic cinema and home-grown talent. The Supernova category boasts screenings of Like Someone in Love, Laurence Anyways, Fill the Void, Pieta, and Much Ado About Nothing; the Shadows section offers looks at Outrage, Doomsday Book, and the The ABCs of Death; open-air screenings include No, Kon-Tiki, Chasing Ice, Samsara, and I'm So Excited; assorted other categories bring films as different as Earth, Dreams of a Life, and The Fifth Season to the screen; and of course there is the Romanian Days category, to which we have devoted extensive coverage.
But for all the other assorted excellence lighting up the screens in Cluj-Napoca, it's those twelve films vying for the major prizes that earn the most attention. Arriving from ten countries around the world, these titles demonstrate the breathtaking diversity and sheer, raw talent inherent in upcoming filmmakers today. It's always tempting, when looking over the entire competition, to forcefully impose some overarching theme; Transilvania this year makes that task thankfully easy with its predominant focus on female protagonists. It's a sorry situation for cinema that sees a majority of women POVs as something out of the ordinary, but alas that is the case; perhaps the 8⅓ films here—there is one that tells three stories—that feature a woman as main character represent a change toward greater gender equality to come in cinematic storytelling.
Let's look now, without further ado, at those dozen films. Do be sure to follow the links provided to our various writers' full reviews, where available.
---
Maybe the most well-known film in competition, Danish drama A Hijacking has already seen theatrical release in some territories, where it's been rightly hailed as a masterclass in tension. Writer/director Tobias Lindholm's remarkable ability to paint knuckles white is no surprise, his role in scripting Thomas Vinterberg's terrific The Hunt considered; here he makes excellent use of the cramped confines of the cargo ship and boardroom in which the drama primarily unfolds, as a stern CEO harshly negotiates the hefty demands of the Somalian hijackers who hold his crew hostage. Magnificent performances from Søren Malling and Pilou Asbæk—playing, respectively, the CEO and the ship's cook—inject impressive humanity into this terse thriller structure, deftly raising the stakes and relieving the film of the major drawbacks of its back-and-forth formula. It suffers still from some, nonetheless, but the consistent sense of peril in which these characters are held, both physically and emotionally, is what drives this immaculately constructed movie.
---
Breaking Horizons (My review)
Taking a setup that's been done to death and beyond before, Burkhardt Wunderlich's wonderfully simple screenplay is the basis of a movie that makes its most profound impacts reworking formulae with fresh new consequences. Breaking Horizons' focus on the unexpected pregnancy of a lost-in-life, layabout architecture student is a familiar conduit to a striking voyage through uncharted emotional waters. Director Pola Schirin Beck and lead Aylin Tezel do extraordinary work together, the latter giving one of the festival's most accomplished performances, the former crafting a feature debut as economic in its direction as it is selfless. Beck's great ability is to bring out the best in all around her, from Tezel and her fellow performers to the technical team who make this movie as pleasant to look at as it is, in the best sort of way, difficult to watch. Emotionally and artistically, this is a definite highlight of the competition.
---
Denmark's second hat in the ring at Transilvania, Call Girl is undoubtedly the most polished feature in contention, courtesy of Wallander-trained director Mikael Marciman and Tinker Tailor Soldier Spy cinematographer Hoyte van Hoytema, a talent so promising he's been snatched by Christopher Nolan to replace the departed Wally Pfister. Telling its story from three intertwined perspectives, it dramatises the real-life sex scandal that rocked Danish politics in the '70s, its every frame steeped in stunning period detail. I was less impressed with it than Jacqueline; yes, its statement on the importance of self-determination for women in society is as vital to the here and now as to the then and there, but Marciman struggles to concisely articulate this in a film that could stand to have much of its fat—beautiful, brilliantly-shot fat though it may be—trimmed.
---
I Catch a Terrible Cat (My review)
An elegiac, entertainingly witty Japanese offering, I Catch a Terrible Cat's amusingly offbeat title is the perfect introduction to the peculiar comedy on which Rikiya Imaizumi's third feature is built. Impressively utilising his cast of inexperienced actors, the director weaves together a hectic heap of storylines and plot threads, the love affairs and infidelities of a soon-to-be sixty year-old novelist and his two adult children overlapping in increasingly humorous ways. It's something of a task to stay on top of everything that's happening here, a difficulty Imaizumi cheekily acknowledges in his revelation-heavy conclusion. The subtle presence of his camera, rarely moving and often staying trained in the same place for minutes at a time, adds an engrossing naturalism to the fine performances he elicits, none finer than the central work of Moto Fuyuki, whose endearing humanity is the cornerstone of this endlessly charming little movie.
---
Perhaps the least audience-friendly title of the lot, at least in terms of traditional narrative structure, In a Bedroom's elliptical characterisation gives us little explicit reason to align ourselves to its mysterious protagonist, a woman in Warsaw who advertises sex online before drugging her ensuing suitors and helping herself to their not entirely willing hospitality. There's an engrossing mystery to this character, aided immensely by Tomasz Wasilewski's versatile framing and a colour palette ever more expressive than this seemingly emotionless woman. She is played by Katarzyna Herman, who nails the remarkably difficult job of conveying emotion by not conveying it. Her performance is the heart of the film, and keeps it alive as it descends into a somewhat unsatisfying conclusion which—much like its identity-adverse protagonist—never quite commits enough to one situation to allow us the time to get a feel for it.
---
The sole English-language film in the contest, It Felt Like Love plants us deep in the heart of New York City with its story of fourteen year-old Lila, an aimless young woman whose desire to match her friend's sexual experience inevitably leads the bashful girl to trouble. Derek's issues with the non-professional cast aren't unfair, and a handful of patchy performances do the film a disservice, but the affectless airs of lead Gina Piersanti fit the emotional destitution of her character, and aid immeasurably in the establishment of hers as a character blinded by innocence to the ills of the world into which she walks. It's a film that feels distinctly small and sad, not unlike Lila's worldview; director Eliza Hittman crafts a film that's visibly amateur, yet not without its impact, not unable to turn this tiny little story to a wider expression of the aimless apathy of American youth.
---
If a pattern appears to be emerging in the pairing of female protagonists with sex-centric storylines, Made in Ash serves chiefly to cement it with its tale of a Slovakian emigrant striving to make her way in the Czech Republic, eventually coming to serve the sexual needs of a wealthy German. It's an obvious nod toward the problematic relationships at work within the European Union, but director Iveta Grofova—whose background is in documentary—manages little more than to gesture blindly at this issue. Her shooting style is uncompromising in its visual manifestation of the ugliness of this story, yet the realism of her aesthetic fails to find a match in her script, which strives vainly to make believable relationships between its key players. This is certainly the weakest film of the lot—thankfully the sole dud—its noble ideals wasted on an execution that earns its characters more scorn than sympathy.
---
A third title from Denmark comes in the form of Northwest, Michael Noer's handsomely built crime thriller cum morality play that tarnishes a terrifically constructed story with its indecisive final moments. It's not enough to undo all the good done by Noer and co-writer Rasmus Heisterberg, though, their script a sharp character piece that uses the central struggle of an older brother to support his single mother and younger siblings with a life of crime as the introduction to an enlivening, enlightening look at the intricacies of families in crisis. Gustav Dyekjær Giese makes for a commendably charismatic lead, his growing criminal activities belying a caring sense of stalwart duty. He has understandably excellent chemistry with younger brother Oscar, who plays the same role in the film, a fine casting decision that makes of this bond precisely the primal tie required for the ensuing drama to earn its emotional weight.
---
The ship of Theseus, this film of the same name reminds us with an opening block of text, was repaired part by part until none of the original material remained: could it, thus, be the same ship at all? Knowing what we do about cellular biology and the replacement of old biological matter with new, we can turn this age-old philosophical idea to an existential examination of identity; or rather, we could, if noted playwright Anand Gandhi hadn't beaten us to it here in his cinematic debut. The three tales he tells herein revolve around organ donation, the trading of body parts a simple conduit to a resonant discussion of what makes us us. It's a brilliant conceit, capably matched by the talented young artist, whose virtuoso long takes alternate between scenes of heady dialogue and beautifully-photographed sequences accompanied by Naren Chandavarkar and Benedict Taylor's gorgeous score, allowing us time to ruminate on the ideas just raised. How remarkably cinematic a debut this is, how bold and brave a use of an oft-misguided tripartite structure. Look no further for the best of the fest.
---
Produced by Pablo Stoll, a Transilvania alum himself for Whisky in 2005, So Much Water is a tremendously likeable story of a separated father who earnestly takes his young children to a poolside resort, only to have the whole trip sullied by unending rainfall. Néstor Guzzini's is a truly beautiful performance, imbuing his character with such subtle sadness beneath his efforts to entertain the children he—we are led to assume—rarely gets to spend time with at such length. It's daughter Lucía, alternately played as sullen and sweet by Malú Chouza, with whom the film is primarily concerned though; the camera follows her on evenings out with the similarly-aged teens she encounters, observing her efforts to find a friend. Despite its tendency, at times, to feel a tad slight, this is a wonderful portrait of the father-daughter dynamic that wears its heart on its sleeve, its eyes as watery as its setting as it wills these disparate two together.
---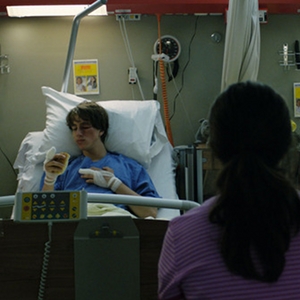 The comparisons to Wes Anderson made in Jacqueline's review are astute, though perhaps the more prominent point of reference for The Deflowering of Eva Van End, Dutch director Michiel ten Horn's offbeat family comedy, is his countryman, Alex van Warmerdam, whose twisted takes on that basic building block of society have given us some of the strangest incarnations of domestic life seen on screen. Ten Horn's is a wit not quite so weird, and the eccentricities of the Van Ends are comparably tame, though no less funny. It's Vivian Dierickx's work in the title role that grabs the attention mostly: a first-time actor, she is gloriously deadpan as a character who—though used for her reactions—undergoes significant, deeply impactful evolution over the course of the film. That course is never not evident, the eventual endpoints of the respective characters easy to predict; it's the ultimate indication of ten Horn's talents that this simply doesn't matter: it's the emotional realism, not the plot structure, that makes this a great movie.
---
Well into its second century, cinema finally arrives in Saudi Arabia with Wadjda, the first film wholly shot in and financed by the country. It was worth the extreme wait: Haifaa Al-Mansour, drawing on the tradition of The Bicycle Thieves but straying from that film's heavy tone, tells the infectiously optimistic tale of the eponymous little girl with remarkable tact, handling some extremely difficult ideas on the oppression of women by religion with appropriate gravitas, yet never undermining the movie's delightful emulation of its cheeky lead's worldview. Waad Mohammed takes to the titular role with all the vim and gusto that the character takes to her newfound passion of cycling, which her parents and teacher decry as a boy's pastime. Warmly shot with a richness of tone to match the story's refusal to let the frustrating sexism it sees as inherent in Islam get it down, this is a film as unendingly enjoyable as it is utterly crucial: for women; for Saudi Arabia; for cinema.
---
Without precedent to bear in mind, the prediction of awards by a unique jury is a fool's task; fortunately, I'm fine with making a fool of myself. Largely credited with launching the Romanian New Wave, Cristi Puiu joins Hungarian director György Pálfi—best known for Taxidermia—German actress Franziska Petri, British producer Lynda Myles, and French festival programmer Frédéric Boyer to dish out the prizes. Probably wrong, and certainly ill-advised, here are the likely winners in my eyes.
Best Film: I can see a lot of support for Wadjda, a film nobody—surely—could possibly begrudge the big victory. I have a sneaking suspicion Ship of Theseusmight slip in, but for now I'm sticking with Wadjda.
Special Jury Prize: Whichever of the above two—assuming one does win—doesn't take the gold should pick up the runner-up trophy.
Best Director: I think Gandhi is the obvious choice here for Ship of Theseus, though Al-Mansour would not be an undeserving alternate for Wadjda.
Best Performance: A very, very tough call, the gender-neutral performance prize has so many deserving recipients. I'd love to see it go to either of the young leads of Wadjda or The Deflowering of Eva Van End, but Breaking Horizon's Aylin Tezel or In a Bedroom's Katarzyna Herman seem more likely choices. I'll put my money on the former, for no better reason than it's my preferred performance.
Best Screenplay: I foresee victory for The Deflowering of Eva Van End, but don't be surprised if the layered I Catch a Terrible Cat wins in its stead.
Best Cinematography: I would be stunned to see anyone steal this from van Hoytema for Call Girl. His work is the film's strongest facet, and his lensing the finest in the competition.

Having spent the vast majority of my life sharing in the all too prevalent belief than cinema is merely dumbed-down weekend escapism for the masses, I was lucky enough to turn on a television at the exact right moment to have my perspectives on the medium completely transformed. Those first two and a half hours marked the beginning of a new life revolving around—maybe even depending upon—the screen and the depth of artistry, intellectual stimulation, and emotional exhilaration it can provide.

Latest posts by Ronan Doyle (see all)