TIFF 2013 Interview: Stephen Brown and Ciaran Hinds on The Sea
---
Editor's Notes: The following interview is part of our coverage of the 2013 Toronto International Film Festival. For more information on the festival visit http://tiff.net and follow TIFF on Twitter at @TIFF_NET.
It's been a hectic week at TIFF going from interview to film to interview and film again the next day. However, I've discovered a few gems, gems that I probably wouldn't have been exposed to because of all the bigger films premiering here at the festival. What might be termed as smaller films are just films that have subtler voices, but are larger than life because of the experiences they bring to their audiences. Stephen Brown's first feature film, The Sea, is one of those soul-eviscerating films. It's the story of a widower, Max, who tries to deal with his present by dealing with the secrets of his past. It stars Ciarán Hinds, Charlotte Rampling, Sinead Cusack, among many other greats.
I had to quell both my geek meter and my new director love to meet this very talented duo, actor Ciarán Hinds and director Stephen Brown. We discussed the adaptation books, Ireland, acting, and of course, The Sea.
—
Jacqueline: What was important to you to portray here?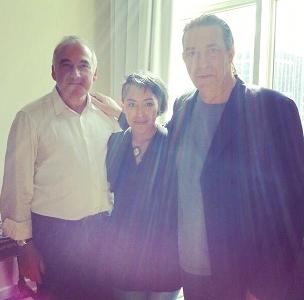 Stephen Brown: What is important for me as a director, is if I can make the audience relate to this character. If I have, then I will have succeeded. The important part of that was to take it to a coherent, concise, even entertaining level, while at the same time, also a dark way in Max's journey.
Jacqueline: How do you tackle such a non-linear and hard novel, (The Sea by John Banville) on film?
Stephen Brown: The script was a very direct rendition of the novel. John Banville adapted his own novel. He simplified things to a certain extent. But I found that we really had discover the film in the edit. So how you deal with the layers of time is very much down to the edit rather than the shooting process.
I have an anthropological background. It's almost like hunting and gathering. It was almost like fieldwork. We're shooting these scenes from this period, then we're shooting these scenes from that period. And obviously schedules have a lot to do with it. You're not really linking anything in the shoot. When we put the film from end to end in an assembly the first time out, it still had a long way to go before we made those layers gel coherently with each other.
Jacqueline: It comes out seamlessly.
Stephen Brown: It was a lot of work.
Jacqueline: How was it working on your first feature film?
Stephen Brown: I loved it a lot. I like it more than anything. I like it more than sliced bread.
It just resonated for me. I've also had a few events that were like this, but that wasn't it. It was the character Max, who's a bit bitter and twisted. And we can all be like that on any day of the week. I loved it on that level. It was difficult material, but it became the film that I really had to make. As it goes further, it still is. I still wake up and am delighted. I suppose I just have to make another film because I'm going to have to let go of The Sea.
I would love to make films in that human vein. Tackling difficult subjects. Maybe I should have been born in France to be Maurice Pialat, who's big hero, mentor of mine.
Wherever you are there is an appetite, a market for this.
Jacqueline: Tell me about filming in Ireland.
Stephen Brown: I had to become Irish. How do you become Irish when you're from Hackney? Ha.
Ireland is a place where literature, thought, poetry, and long words are not dirty words. They have minds. This is just the person on the street, it's not just the filmmakers and the literati…I mean, you could transfer this story anywhere. But Ireland is the place for Max who's an observant art historian. Ireland is his place.
Jacqueline: Ciarán, what did you want the audience to know about Max. What was important to you to convey?
Ciarán Hinds: I didn't want them to be totally put off this man who can be quite sour and a little resentful. He's suffering something that the audience can connect with through grief and memory. I didn't want to pull punches with the character or make him sympathetic either. John Banville made him that way. I wanted to take the audience in where Max was going with his journey. It's a balance and you want to be true to the material and the character.
I don't know if Stephen told you, but there were some scenes were excised. They were ones where Max really turned in his rage. We wondered if it was a good idea. There were scenes with the daughter, although he loved her, he was furious at her. We had to go, is that too much or where do we want to go?
Stephen Brown: The jolt that is dealt to Max after the death of his great love ends up making him look at the secrets he keeps to himself. Bingo. It comes up to the surface now, in the film.  In the novel, it's described very well in the first page: "The silt rises up to the surface…" so how do you portray that cinematically? And that was the challenge.
Ciarán Hinds: There's a bit in the book where he decides to go in the novel, he has this dream. He's walking in it and his foot hurts and it's awkward for him. But it's like he's been taken up from who he is and has gone up into a time tunnel. It was memories and he started seeing things in his dreams that he hadn't been looking for, but he was forced to confront.
Stephen Brown: There are these great passages in the book, so how do you compress them into the short hand of a movie? Any book as a film has to be broken up, opened up, rearranged, and remodeled so all we get is that "you can't go back to the past. You're living in the past."
That's the dream. That's the moment. That's the silt rising. All those pages in the novel has to be one line in the movie.
In another era, Tarkovsky would have said no, don't worry, we'll go for the four hours.
Ciarán Hinds: This is the kind of film you can't bang big drums for. You have to place it and offer it up, it's a gift, to place it.
Jacqueline: There are some tough scenes of raw truth, especially with Sinead Cusack's character. How do you elicit these emotions from yourself?
Ciarán Hinds: You dig it up from deep inside you. We all have these reactions. The key is to be ready to summon them up at the right time, and not to be ready to early and spend it all up. For moments like that, you have to locate it honestly: to really listen to the moment, the scene, and to surrender everything to it. Everything else just disappears.
That moment is also created by the director who ask crews and technicians for the space, to create the environment, to make it happen.
Sometimes we can be too emotional as well. That can be contained and held back so that other people that watch it can place themselves in that moment.
Stephen Brown: You can see that working with someone with the stature of Ciarán Hinds is not difficult.
* laughter *
Max's character is centrifugal. It comes across in the easiness of the shoot and the fun in it.
Ciarán Hinds: Even we were all just waiting for the next shoot or scenes or set ups: we all had little rooms. It was in a real house. Normally actors will chat or be on their phones for a while to wait, but when the director said, "Cut!" We'd all just go silently to our rooms and left each other. It wasn't even planned. It was a synchronicity to our crew. The house had it's own atmosphere and we all sort of wore that so at the end of the day we would throw it off.
—
I thanked the both of them profusely. They opened my eyes to a film that can be congruent to anyone facing loss and dealing with that loss. Brown and Hinds have a camaraderie and a chemistry that will work to this film's benefit.
The following two tabs change content below.

I'm a published writer, illustrator, and film critic. Cinema has been a passion of mine since my first viewing of Milius' Conan the Barbarian and my film tastes go from experimental to modern blockbuster.

Latest posts by Jacqueline Valencia (see all)