---
Sexy Beast (2000)
Cast: Ray Winstone, Ben Kingsley, Ian McShane
Director: Jonathan Glazer
Country: UK | Spain
Genre: Crime | Drama
Official Trailer: Here
---
Editor's Notes: Under the Skin opens today.
It is relatively rare for a film not of the horror genre to create an atmosphere so unsettling and uncomfortable as to remain with you long after viewing. Sexy Beast, the first feature from advertising and music video maestro Jonathan Glazer, is for the most part an excellent character drama based around a bank job, but at times it is as intense a viewing experience as you will have from any film.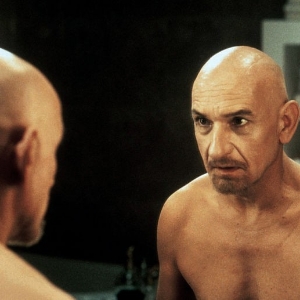 Gary Dove (Ray Winstone) is a retired Cockney gangster enjoying a peaceful life at his Costa Del Sol villa where he spends the majority of his time eating, drinking and sunbathing. With his trashy, token wife Deedee (Amanda Redman) and his houseboy Enrique (Álvaro Monje), he lazes his way through most days until an errant boulder disturbs the idyll by crashing down the mountain and landing in Gary's pool, narrowly missing him. Sadly for Gary, this is only the beginning of his troubles. Enter Don Logan (Ben Kingsley), who arrives unannounced and invites the former safecracker to come back to the U.K. for one more job, and when Don invites you, you never say no.
Sexy Beast is built entirely around its characters and much of the credit must go to the witty and intelligent script by Louis Mellis and David Scinto. The unfussy direction from Glazer allows the dialogue to remain at the fore, and the cast revels in the naturality of their lines. Winstone and Redman are excellent as the former gangster and his moll who are drawn back into a world they had hoped to leave far behind them, and their reticence to return is as hopelessly futile as it is desperate. It is with Kingsley's Don, and also Ian Mcshane as underworld boss Teddy Bass, that the true dark heart of Sexy Beast resides. Kingsley delivers a performance so full of malice and rage that it would be almost impossible to better and makes you pray you never meet anyone of his ilk. McShane provides a direct contrast however with the underlying aggression so obvious in his character remaining just below the surface while still delivering lines laced with unavoidable threat and intent.
Sexy Beast is at times as intense a viewing experience as you will have from any film.
Directorially there are clear signs of Glazer's subtle traits. His style is one of reflection and of allowing the camera to linger, drawing out scenes towards almost uncomfortable and inevitable conclusions. From the withering bleakness of his Radiohead music videos to the shear exuberance of the famous Guinness advert featuring horses in the surf he is a director who is clear on the vision he wishes to show, and knows how to get there.
As a pure gangster film, Sexy Beast is without doubt one of the best British cinema has produced. Expertly combining the black humour of Layer Cake with the physical oppression of The Long Good Friday, this is a film that stands comfortably alongside those illustrious peers. Like those films, Sexy Beast warrants repeat viewings and will no doubt stand the test of time, its cast providing a benchmark in intense yet nuanced performances.
[notification type="star"]90/100 ~ AMAZING. As a pure gangster film, Sexy Beast is without doubt one of the best British cinema has produced.[/notification]