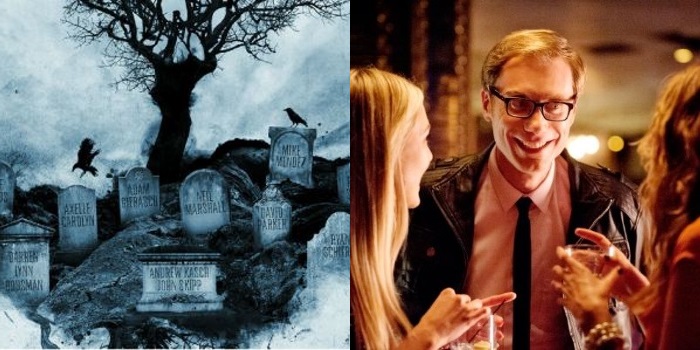 Editor's Note: Yesterday's News covers the most important news of the previous day with a focus on film, television, and trailers.
---
Film
---
The European Film Academy to present Agnes Varda with lifetime achievement award (Variety).
Dev Patel and Nicole Kidman attached to star in Lion (THR).
Japanese horror movie Otoshimono getting an American remake title Ghost Train (THR).
Elle Fanning, Naomi Watts, and Susan Sarandon sign on to star in Three Generations (THR).
Dubai International Film Festival gets rid of Dubai Film Connection section (THR).
Romantic drama The Best of Me to be remade as a Bollywood movie (THR).
More Terminator: Genisys pictures…this continues to worry me (EW).
First look at Pride and Prejudice and Zombies (EW).
Of Horses and Men wins Nordic Council Film Prize (THR).
Lucy Liu to star in drama Snakehead (Deadline).
Lily Collins and Eva Longoria in talks to star in untitled Low Riders movie (Deadline).
New Poster for A Most Violent Year (The Film Stage).
Krampus release date moved off of Thanksgiving 2015 weekend (THR).
Seth Rogen eyed to be the Steve Wozniak to Christian Bale's Steve Jobs; Jessica Chastain also circling (The Wrap).
Sam Raimi and Rob Tapert to re-team with Fede Alvarez and Rodo Sayagues on A Man in the Dark (Variety).
Comedy spec script Cold War from young writers Noah Goodman and Justin Zaager optioned by Eric Gitter (THR).
Skull Island getting rewrite courtesy of John Gatins (Deadline).
The Yes Men Are Revolting receives The Tribeca Film Institute and Candescent Films' Candescent Film Award (Indiewire).
Cineteca Nacional announcing programming for 57th edition of the Muestra International (Twitch).
New anthology horror film Tales of Halloween gets directors Neil Marshall, Darren Bousman,  Joe Begos, Axelle Carolyn, Adam Gierasch, Andrew Kasch and John Skipp, Mike Mendez, Dave Parker, Ryan Schifrin, and Paul Solet (Deadline).
David Leslie Johnson to write Something Wicked This Way Comes for Disney (THR).
Jon Bernthal, Catalina Sandino Moreno, Oscar Jaenada, and Mehdi Dehbi join Catherine Zeta-Jones in The Godmother (The Wrap).
Gal Gadot forced to pass on Ben-Hur due to Batman v Superman schedule (The Wrap).
Oscilloscope makes first streaming agreement with Amazon (Variety).
Starz secures North American rights to Northmen: A Viking Saga (Deadline).
Inception Film Partners picks up international distribution of Robin Williams' final feature film Boulevard (Deadline).
---
TV
---
Hulu gives straight-to-series order to Jason Reitman produced comedy Casual (THR).
First promo for Peter Pan Live! (Variety).
AMC gives straight-to-series order to The Night Manager starring Hugh Laurie and Tom Hiddleston (THR).
House of Lies casts Fred Melamed in recurring role (THR).
ABC sets premiere dates for The Great Christmas Light Fight, The Taste, and The Bachelor (Variety).
Stephen Merchant's cancelled series Hello Ladies to get a second life as an HBO movie (The Wrap).
Kelly Reilly, Michael Irby, Abigail Spencer, and Leven Rambin joining second season of True Detective (Deadline).
Dean Norris to guest star on American Dad (EW).
Joel McHale extends his stay on The Soup through 2016 (THR).
WE TV cancels The Divide (Deadline).
FX puts science fiction comedy Daedalus 6, written by Dan Hernandez and Benji Samit, into development (Deadline).
Fox taps Stephen Nathan and Jon Collier for adaptation of Zoobiquity (THR).
Adam Rodriguez books major recurring role on NBC's The Night Shift (Deadline).
CBS puts untitled multi-camera comedy from Dan Kopelman into development (Deadline).
Mark Gordon Co. developing Unfunctional for ABC and untitled comedy at NBC (Variety).
Tory Kittles lands series regular role on The Colony; Kevin Rahm joins the cast of Bates Motel in a recurring role (Deadline).
Bette Midler books her first UK television special, Bette Midler: One Night Only (Deadline).
Bell Media unveils upcoming Canadian video streaming portal (THR).
The Colbert Report's last episode will be December 18th (THR).
Doctor Who gets special extended episode for its season finale (THR).
---
Trailers
---
Teaser and international trailers for Ex Machina (The Film Stage).
First trailer for Syfy series 12 Monkeys (The Wrap).
Trailer for Happy Valley (The Film Stage).
Trailer for Starry Eyes (Next Projection).
New trailer for The SpongeBob Movie: Sponge Out of Water (Coming Soon).