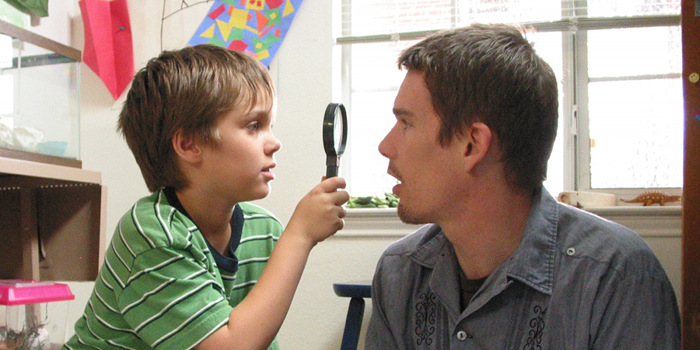 The subtitle for this article could've also been "IS BOYHOOD DOOMED?"
But I'm not just trying to make headlines.
Watching last night's Golden Globes ceremony (which, in short summation, consisted of Tina Fey and Amy Poehler absolutely slaying it during a monologue truly riskier than anything Ricky Gervais did in his three-year hosting stint, and then being more or less disappeared for the remainder of this, their presumably final ceremony as co-hosts), I had a legit thought in my head. "What if Boyhood is so dominant that it ultimately loses out on the Best Picture Oscar?"
 What if Boyhood is so dominant that it ultimately loses out on the Best Picture Oscar?
It would be a welcome twist in a season that has been heretofore lacking in anything resembling the uncertainty of that beautiful memory known as last year. This year could be nicknamed the "Boyhood Blitz," because Richard Linklater's broadly ambitious concept film has done just that. In fact, there was a statistic floating around recently (because Oscar pundits are now stat geeks, thank you very much) that Boyhood now ranks as the most widely rewarded film in precursor awards history, when you combine its endless onslaught of critics group prizes with its complete ubiquity on year-end Top Ten lists. It's quite an impressive haul…the most impressive we've seen since – well, since The Social Network.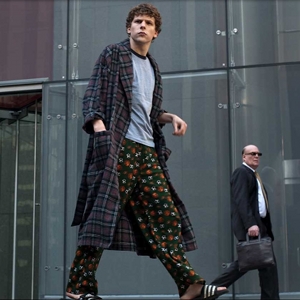 And we all remember what happened to The Social Network, don't we?
Notions of "peaking early" are legitimate, or perhaps just simply become so persistently spotlighted that the celebration becomes old hat and other contenders slowly come into clearer focus. And there is precedent for such a turn of events. The aforementioned Social Network is the most recent example, and before that was the Best Picture loss of Brokeback Mountain, which was perhaps even more glaring – whereas we all more or less knew Network would lose BP by Oscar night, Brokeback came as a late-game shock. So while the examples are rare, they do exist. Anything is possible.
 But there is a particular hinge upon which Best Picture upsets turn, one that would seem to exclude a film like Boyhood from danger. That hinge is controversy.
But there is a particular hinge upon which Best Picture upsets turn, one that would seem to exclude a film like Boyhood from danger. That hinge is controversy. Oscar races are merely narratives, shaped by the many people, in many different spheres, who participate in them – from the studio wonks who run each film's official campaign to the industry insiders tasked with nominating films and then anointing a winner from those nominees, to innocent moviegoers who plunk down their hard-earned money on one film over another, to even – believe it or not – the Oscar pundits who observe and analyze every facet of the race until the observations and analyses start not only predicting the next development, but dictating it (but more on that in a later column).
Narrative played a major role in each of the recent Best Picture upsets. In the case of Social Network, there was a sense that the movie – and its supporters – was smug, a little too smart for the room. Some also felt like the campaign was a bit overwrought in its hyperbole (remember "a film for the ages"?), like the studio was taking a victory lap before the race was won. And in swept The King's Speech, earnest, uplifting, perfectly solid, and not a bit disagreeable. It functioned as the attitudinal opposite of Social Network, a force that might actually move that unmovable object. And it did. Back in 2006, Brokeback was the subject of a more precise controversy: its gay subject matter. There was that faction of Old White Men among the Academy membership who vowed not to vote for the seemingly destined Best Picture winner. To what degree that faction helped sway the final vote is still questionable, but it was certainly present. There was also a different, less prejudiced force at work – the growing number of Academy voters who took to Paul Haggis' Crash as a work of more reflective modern liberalism. Whatever the reason, a wide enough swath of voters went searching for an alternative Best Picture choice.
But what's controversial about Boyhood?
….Exactly.
It's ambitious, well-mounted, and born from a conceptual experiment that sort of puts the cherry atop the career of its director, long respected as a bastion of independent filmmaking, who has continually sought out such experiments as new ways to challenge himself. Describe it that way and how could the damn thing lose? Aside from actual filmmaking and narrative issues (which do exist and which I am happy to enumerate), there isn't any major ideological issue to take with Boyhood.
But of course you didn't think I'd just leave it at that, did you? There are two elements that could ultimately hinder this seeming behemoth – whiteness and masculinity. At a time when countless observers outside the industry are taking Hollywood to task for a continued paucity of strong roles for women, both in front of and certainly behind the camera, a movie blatantly titled Boyhood would seem like gilding the lily. And as we emerge from a year which saw a striking and disturbing trend of violence against young black men by an establishment tasked with protecting all innocent citizens, an epic-length film about the comparative whimpers of a middle-class white boy could eventually ring somewhat indulgent. And there is one other contender that fits perfectly into both molds: Selma, whose recounting of Martin Luther King Jr.'s 1965 fight for African American voting rights functions as a psalm for our current cultural schism. It's also directed by a woman, Ava DuVernay, with broad industry experience and respect, but whose very unique directorial POV is still new and fresh. In the unlikely event of an upset, it would seem Selma is the candidate with the most power and potential.
Time will tell. Nominations are announced Thursday morning, at which point the race will begin all over again, and who knows which direction the narrative will go…