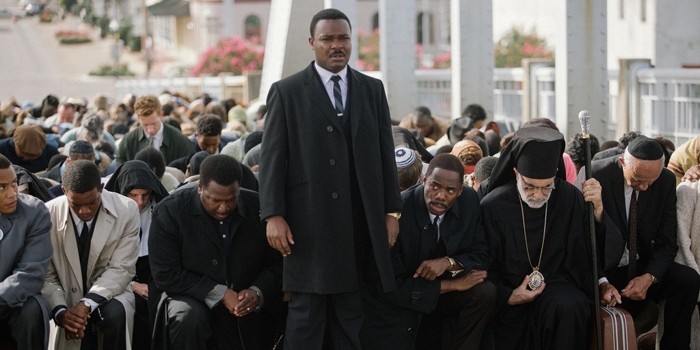 It's been a day full of excitement and adrenaline – though the commotion has had less to do with the traditional anticipation of the Academy Award nominations than with the equally traditional reactionary aftermath of said nominations. It's been a hand-wringing kind of day, though for good reason. Plenty of stuff to chew on…and then angrily spit out.
Selma has dominated most of the day's negative coverage, seeing how it was given the full Extremely Loud and Incredibly Close treatment, walking away with a Best Picture nomination and only one other accompanying nod – for future Best Original Song winner, "Glory." I had been bullish on Selma in the days leading up to the nominations, not merely because Ava DuVernay's film is stirring and poignantly relevant to the world we live in, but because the film seemed to destined to become that special film that enters the game late and takes the season by storm. It also, in my estimation, stood the best chance to derailing the runaway freight train known as Boyhood. For an Oscar upset to take place, there needs to be an opposing force to push against the frontrunner. Since Boyhood is generally likable and not remotely controversial, Selma seemed liked a potential opposing force – it is fierce, defiant, and powerful. And, strictly on a surface level, Boyhood reifies the white male status quo, whereas Selma is about challenging the establishment.
Oops…I forgot about that wide swath of status quo running through all branches of AMPAS.
No reason to beat around the bush…let's get right to the point: the Academy is old, white, and male. Median age of Academy membership is 63. 93% of members are white. 76% are men. So I guess it makes sense that the eight films selected for Best Picture nominations are all male-centered, and the vast majority are conventional to the core. Selma did land that Best Picture nod, though it feels like a weird backhanded consolation prize for being left off every other above-the-line category (and all but one below-the-line category, to boot). And in case you forgot, it's also about a man, so…there's a little something to piss everyone off.
In case you missed it, I mentioned eight Best Picture nominees, the first time the nominating vote yielded a total less than nine since the variable Best Picture field was implemented three years ago. The field is made up largely of the expected contenders; late-game entrants were Selma and American Sniper, though both seemed increasingly likely in recent days. Whiplash is probably the most independent and anachronistic film of the group (and also, in my opinion, the best), so its industry embrace is refreshing. Boyhood, Birdman, The Grand Budapest Hotel, and The Imitation Game have been leading the charge throughout the season. And there's The Theory of Everything, which has been riding the coattails of its great lead performances all season.
Gone Girl was apparently hated by the Academy, though not enough to dismiss Rosamund Pike, who landed a well-deserved Best Actress nomination. Foxcatcher was apparently very well-liked by the Academy, though not quite enough to land a Best Picture nomination. We can cheerfully refer to Inherent Vice as a double Oscar nominee – for its trippy costumes and that gonzo screenplay, which is like the Academy giving the finger to those goofballs blasting it for being inscrutable and incomprehensible. Nightcrawler was not a big hit with Oscar, as it turns out. The LEGO Movie was not nominated for Best Animated Feature, to which I would skip over the cutesy "not awesome" response and simply call bullshit. And Life Itself was left out of the Best Documentary Feature category, so the industry can say that got the last laugh on the guy who gave all their movies Thumbs Down. But Roger Ebert was the greatest, most vocal champion of the cinema; that his final legacy was not acknowledged by this industry he celebrated seems entirely wrong.
With that, welcome to Phase Two. Predicting the winners in most categories seems pretty easy right now, though there is some room to shift and plenty of time for studios to campaign. Boyhood has the inside track, though Birdman or Grand Budapest Hotel (which tied for most nominations with nine apiece) could make a move, particularly the former…though at this point I doubt we will see a truly uncertain scenario such as last year, when the Best Picture envelope was opened. But we have 38 days to think it over, discuss it, and argue some more.